We may earn a small commission if you sign up for a service or product from this page. This does not affect our rankings and it does not cost you anything. Learn more about how we make money and our review process on our advertising disclosure page.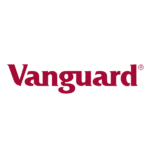 Vanguard Personal Advisor Services
Who is Vanguard PAS Best For?
Vanguard Personal Advisor Services is a great hybrid robo advisor for investors with more than $50,000 in investable assets. This can even be in the form of existing retirement accounts such as Roth IRAs. Investors looking for a more human approach alongside their automated investing should take a look - Vanguard PAS could be a great solution for you, and it's very affordable.
Pros
Access to Human Financial Advisors
Personalized Financial Plan
Long-Term Goal Planning
Affordable Management Fee
Cons
High $50,000 Account Minimum
Uses Only Vanguard Funds
Vanguard is one of the giants in the investment world, with millions of customers and a variety of financial services. In 2015, Vanguard added Personal Advisor Services (PAS) to its offerings. Vanguard PAS combines the power of Robo-advising with access to a team of human financial advisors.
Vanguard Personal Advisor Services is a trusted and viable resource if you're searching for an easy way to manage your assets and investments.
Annual Fee
0.30%
AUM (Assets Under Management)
$186.5 billion*
Minimum Investment
$50,000
Free Version
No
Headquarters
P.O. Box 1110
Valley Forge, PA 19482
Desktop App
Yes
Mobile App
Yes
Socially-Responsible Investing
Yes (By Request)
Customer Service
Live support via email and phone
Access to Human Advisor
Yes
Phone
800-462-5999
* The AUM for PAS (VAI) as of December 31, 2021, is 186.5 billion.
Account and Investment Services
Vanguard Personal Advisor Services offers a unique combination of Robo Advising and financial planning services.
Vanguard launched this service as Robo Advisors started rising in popularity. Robo Advising typically involves minimal human intervention, and computer algorithms are designed to manage your investments without the hassle or costs of in-person meetings.
The downside is that sometimes you need some advice from a real person. Vanguard PAS stands out because every investor has access to human financial advisors whenever they need help.
Access to Human Advisors
Accounts with a balance between $50,000 and 500,000 have access to a team of financial advisors. Accounts over $500,000 get a dedicated financial advisor. 
You won't be able to meet face-to-face with your financial advisor, but you will have the ability to schedule unlimited free appointments over the phone or via video. Sometimes your meeting will be scheduled a week or two in advance. A financial advisor will respond to an email within a 48-hour time frame on business days.
Your account is reviewed quarterly and rebalanced as needed (if any asset class deviates from the target allocation by 5% or more) to keep you on track to meet your goals.
Every Vanguard advisor will offer personalized advice, and they are obligated to keep your best interests in mind. Vanguard stands out here because you will get trusted advice from a real person, in addition to the robo-advisor algorithms.
Your advisors will also take into consideration your investments outside of Vanguard. That's important because your other 401(k)s, savings, and investments will impact your financial plan.
Vanguard Personal Advisor Services Fees and Pricing
The account minimum for Vanguard Personal Advisor Services is $50,000, and the annual advisory fee is 0.30%, which is charged quarterly. As a reference point, you can think of that costing around $150 per year in fees.
The advisory fee decreases with higher account balances:
Less than $5 Million: 0.30%
$5–10 Million: 0.20%
$10–25 Million: 0.10%
Over $25 Million: 0.05%
The $50,000 minimum assets advised can be a combination of IRAs, Mutual Funds, and Trust accounts.
How do Vanguard PAS fees compare to their competitors?
Vanguard Personal Advisor Services is a hybrid robo advisor, meaning they are an automated investing service combined with human financial advice.
Their closest competitor is Personal Capital, which carries a fee between 0.49% and 0.89% depending on account balance, which is a minimum of $100,000. Similarly, Betterment Premium has a $100,000 minimum and charges a 0.40% annual fee. Wealthfront, by comparison, does not offer access to a human financial advisor at all.
Schwab also offers a comparable service – Intelligent Portfolios Premium, which costs $30 per month, and a fee of $300 for the initial financial planning. We put a handy comparison chart below to compare similar services' pricing and minimums.
Compared to other hybrid robo advisors, Vanguard PAS offers excellent services at a relatively low cost.
Hybrid Robo Advisor Comparison Chart
| | | |
| --- | --- | --- |
| Robo Advisor | Annual Fee | Account Minimum |
| Vanguard PAS | 0.30% | $50,000 |
| Personal Capital | 0.49%-0.89% | $100,000 |
| Betterment Premium | 0.40% | $100,000 |
| Schwab IPP | $360 | $25,000 |
| Fidelity PPA | 0.50% | $25,000 |
Account Types and Services
Vanguard Personal Advisor Services offers advice on various IRAs and trust accounts. Vanguard won't manage a 529 plan, but they will consider it when providing financial planning advice.
Here are the account types Vanguard offers:
Taxable
Joint 
Roth IRA 
Traditional IRA
Rollover IRA
SEP IRA
Simple IRA
Trust
401k
Tax Loss Harvesting is a strategy used to minimize the taxes paid on investment gains or other income. This is available with Vanguard Personal Advisor Services but on a minimal basis. You will need to discuss it further with your Vanguard financial advisor.
Unlike some of their peers like Wealthfront and M1 Finance, Vanguard is strictly an investment service. They do not provide banking services like checking or savings accounts.
Sample Financial Plan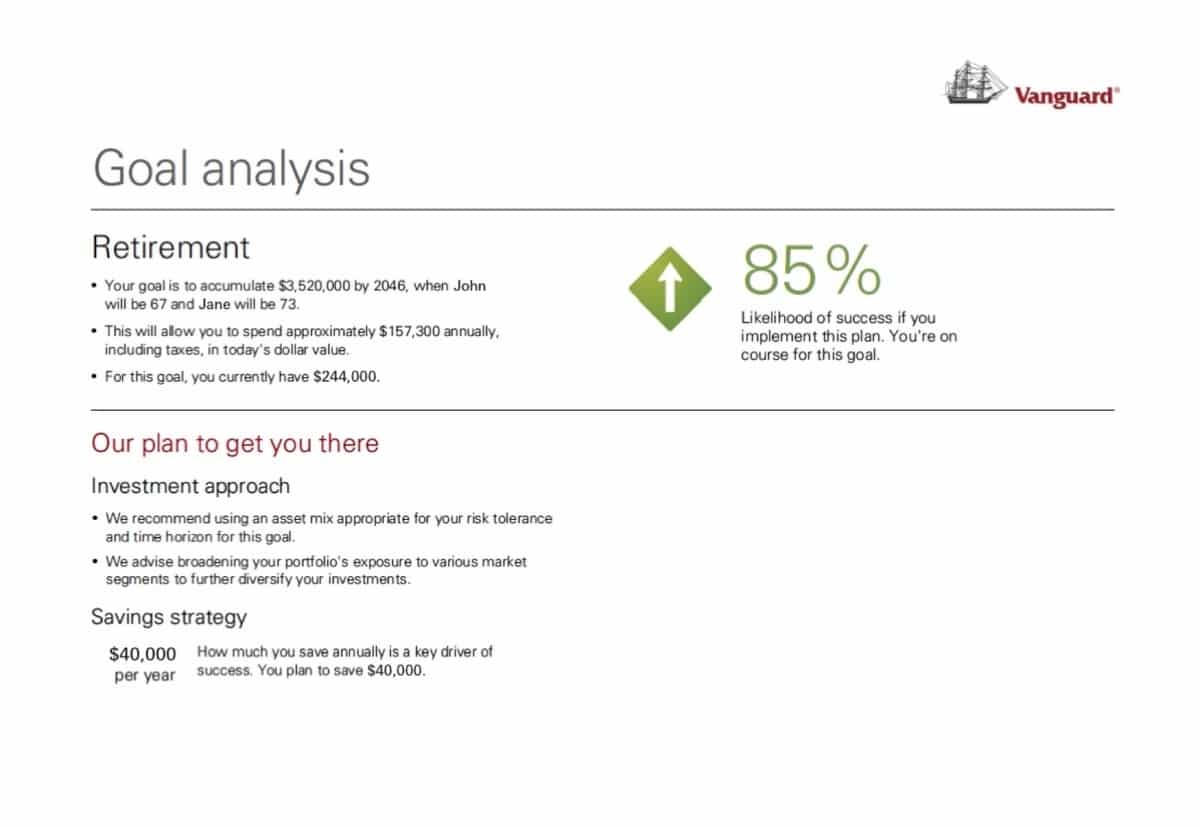 User Experience & Mobile App
Vanguard's website offers all of the tools for investment success and a simple dashboard that provides your account overview. You will need to look around to take advantage of the tools, savings calculators, and simulators offered.
The Vanguard mobile app has received some criticism for being outdated. When it comes to Robo-advising, technology is continuously taking steps forward. The Vanguard app gets the job done and is secure, but it may feel like they're a step or two behind the competition.
Sample Account Dashboard
Onboarding Process
There is an onboarding process before you start investing with Vanguard Personal Advisor Services, just like any other service. Vanguard's financial advisors want to understand you and your goals before creating your financial plan. This isn't an overnight process; it will likely take a couple of weeks.
First, you will share your financial goals, expectations, timeline, risk tolerance, and personal financial situation with Vanguard. Then you will schedule a meeting with an advisor who will answer your questions and get to know you better.
Within a few weeks, you will have a personalized financial plan based on your goals and risk tolerance and can decide if you want to move forward.
Who Is Vanguard Personal Advisor Services Best For?
We understand that Vanguard's service won't be the best choice for everyone. You have unique financial needs and investment goals.
Vanguard Personal Advisor Services is an excellent choice for those with significant assets. Some people don't yet have the $50,000 to meet the account minimum. Vanguard recommends considering its Digital Advisor service if you're in that boat.
Vanguard Personal Advisor Services is also a good choice for investors with long-term goals. Vanguard is investor-owned, which means the fund shareholders own the funds, which in turn own Vanguard. Before investing, you will discuss your financial planning goals with an advisor.
With that said, day traders or those looking for a quick turnaround might want to look elsewhere. Instead, PAS focuses on your retirement goals, college savings, and long-term growth.
The Bottom Line
Vanguard Personal Advisor Services is one of the best options for people looking for easily-managed investments and personalized help. It is an excellent choice if you can meet the $50,000 minimum, want a human touch to your portfolio, don't mind owning Vanguard funds, and want to be more involved than traditional Robo-Advising. 
You can feel confident that you will reach your future investment goals.
Vanguard Personal Advisor Services has successfully combined Robo-advisors with financial planners who work hard to help you grow and achieve your personal goals.
Disclosure: BestRoboAdvisors.org has entered into a referral and advertising arrangement with Vanguard and may receive compensation when you open an account or for certain qualifying activities. You will not be charged a fee for this referral, and Vanguard and BestRoboAdvisors.org are not related entities. All investing is subject to risk, including the possible loss of your investment money. Advice services are provided by Vanguard Advisers, Inc., a registered investment advisor, or by Vanguard National Trust Company, a federally chartered, limited-purpose trust company. The services provided to clients who elect to receive ongoing advice will vary based upon the amount of assets in a portfolio. Please review the Vanguard Personal Advisor Services Brochure (PDF) for important details about the service, including its asset-based service levels and fee breakpoints.