RealtyMogul
Minimum Investment
8.5/10
Pros
Open to Accredited and Non-Accredited Investors
$170 million payout track record
Diverse commercial real estate portfolio
Two funds to choose from
Cons
High minimum investment
Lack of transparent and granular selection
We all know that real estate investments can be one of the most resilient hedges in a volatile market. This is especially true for those who put a large portion of their portfolio into stocks or index funds and want to balance the risk with some safe real estate.
That said, real estate investing is often perceived as being less convenient than dropping cash onto the stock market. Thankfully, crowdfunding platforms like RealtyMogul seek to make the passive real estate investing journey easier for non-accredited and accredited investors alike.
Let's take a deeper dive into this RealtyMogul review to get a better feel for the pros and cons of the platform, as well as whether or not it's the right choice for you!
How Does RealtyMogul Work?
The platform isn't as accessible as some other crowdfunding investment platforms due to the minimum investment of $5,000. However, we don't consider that to be a negative since investing under $5,000 into commercial real estate will not yield many returns.
There are two real estate investment trusts (REITs) you can choose from when signing up for RealtyMogul. These nontraded REITs are MogulREIT I and MogulREIT II. Your total cumulative investment across one or both of these funds cannot exceed 10% of your income/net worth.
MogulREIT I manages a portfolio consisting of commercial real estate investment projects. These real estate projects include industrial, self-storage, retail, office, and multifamily properties. Both debt and equity assets are included, with dividends paid out monthly.
MogulREIT II is the residential offering from RealtyMogul, which focuses on multifamily apartments and preferred equity investments. Due to the nature of an SFH investment property, those investing in the MogulREIT II real estate portfolio will have to wait for their dividends quarterly.
MogulREIT I
Objectives:
Pay Attractive and Stable Cash Distributions
Preserve, Protect, Increase and Return Your Capital Contributions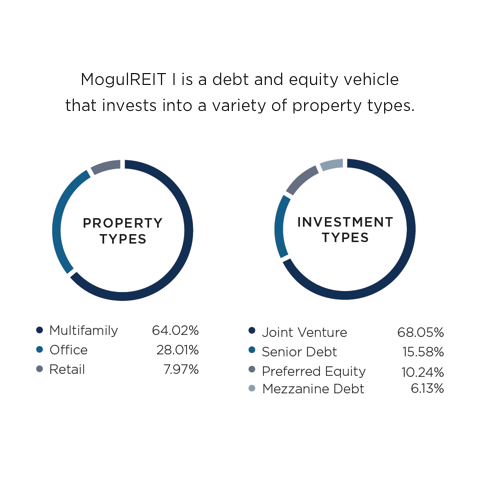 MogulREIT II
Objectives:
Realize Long Term Capital Appreciation
Pay Attractive and Stable Cash Distributions
MogulREIT II is also a public nontraded REIT. MogulREIT II invests in common and preferred equity investments in multifamily apartments and typically pays dividends quarterly. While its historical dividends are lower than MogulREIT I, RealtyMogul notes on its site that this REIT also aims for "significant value appreciation" over time (in other words, gains in share prices).
If you're an accredited investor, you can put money into a specific property or group of properties with RealtyMogul's "Private Placement" service. Those who meet the SEC requirements will have access to investments ranging from $25,000 to $50,000 across the country.
Investment terms on these placements usually range from 3 to 7 years.
Who Can Invest in RealtyMogul?
Both accredited and non-accredited investors with a minimum of $5,000 can invest with RealtyMogul.
RealtyMogul Pricing
RealtyMogul has a rather complex fee system that might be easier for accredited investors to grasp than those who are new to real estate and haven't used a real estate investing platform in the past.
RealtyMogul takes up to 3% of the equity raised from investors to cover marketing, accounting, and legal expenses. An annual asset management fee of 1% is also in place and is based on the average investment value within the REIT.
Furthermore, there's a 2% disposition fee taken from the contract price for every asset sold. You'll incur a 0.5% servicing fee to the principal balance when performing investments for the administration costs.
Additionally, promoted interest is calculated after the REIT has paid a preferred return, so this amount is initially undetermined. Finally, nonperforming investments will have a special servicing fee worth 1% of the original value.
The fee structure may be a bit more complex and costly than that of other platforms. However, the track record and solid customer service could potentially justify that depending on the use case.
This sums up the pricing structure of RealtyMogul, but how about its credibility?
Is RealtyMogul Legit?
With its successful track record of paying out $170 million to its 200,000 users, RealtyMogul has certainly built up a flawless reputation in terms of credibility. There are no signs whatsoever suggesting unethical or scam-like activity on the platform, so RealtyMogul is legit.
The Biggest Benefits of Using RealtyMogul
Track Record
RealtyMogul justifies its high minimums by being one of the top real estate crowdfunding platforms on the market. Since its founding, RealtyMogul has financed over $2 billion in property value and has already paid out more than $170 million to its investors — of which there are many!
How many exactly? Well, the platform currently boasts over 200,000 members and continues to grow rapidly despite the $5,000 barrier of entry. If you're looking for platforms that have proven their efficacy time and time again, then RealtyMogul may be the one for you.
Accessibility
Many people run into problems finding a real estate crowdfunding platform because numerous sites require users to be an accredited investor. To qualify as an accredited investor, you will need to have $200,000 in annual income or a total net worth of over $1 million.
You can also qualify with a joint income of $300,000 between you and your spouse. These are demanding requirements to meet, so you'll be glad to know that RealtyMogul has made itself accessible to a broader audience by accepting both accredited and non-accredited investors.
Liquidity
The drawback of many REIT platforms is that you'll often have to deal with low liquidity. You'll put money in then be unable to take it out for a few years. While this is also true in RealtyMogul's public nontraded REITs, the platform has a program for users who need fast cash.
Shareholders in MogulREIT I and MogulREIT II funds can sell their investment back to RealtyMogul quarterly — albeit for a reduced price. It may not be a perfect solution, but it serves as a countermeasure against liquidity problems. This program is only available to users after their first year of investing.
Who is RealtyMogul Best For?
If you're new to real estate investing, you might not be sure which platform is right for you. There are a few categories of investors that RealtyMogul works best for.
Commercial Investors
Fans of commercial real estate investing will find that the RealtyMogul portfolio is perfectly in tune with their needs, owning properties in a wide range of commercial settings. MogulREIT I is the commercial-centric REIT, but you can also invest in MogulREIT II to further diversify.
Risk-Averse Investors
Those who want to keep their portfolio low risk will benefit by investing with RealtyMogul. The diverse range of properties included in the RealtyMogul REITs ensures that the portfolio is diverse enough to withstand economic downturns.
Is RealtyMogul Suitable For Everyone?
Considering the investment world doesn't have a  one-size-fits-all solution, it should come as no surprise that certain people might not be the right demographic for DiversyFund and similar platforms.
Beginners
RealtyMogul may not be the best option for total beginners due to the $5,000 minimum investment. Other platforms that only request 1/10 of what RealtyMogul requires could be a better starting point for those who don't have as much capital or experience or want to dip their toes into commercial real estate investments.
Quick Return Investors
If you're looking to make a quick profit on your investment, then RealtyMogul isn't the platform for you. You'll need to wait a few years before seeing a return, and even the early buyback program only kicks in after you've held the investment for at least one year.
Active Investors
If you're the type of investor to look behind the scenes and conduct your due diligence on every equity investment you make, then RealtyMogul isn't the ideal platform for you to use. Other options provide greater transparency into individual properties so you can handpick where your money goes.
Liquidity
As previously mentioned, RealtyMogul does have a buyback program if you need liquid cash right away. The platform will buy back investments at the following reduced prices:
98% if you held the investment for more than one year but less than two years
99% if you held the investment for more than two years but less than three years
100% if you held the investment for three years or more
These options are available whether you invest in commercial real estate or real estate from the residential REIT. Again, the dividend based on your real estate assets will be disbursed monthly for MogulREIT I and quarterly for MogulREIT II.
Reviews
"Decent platform. Deal flow is fair (currently offering 4 deals in addition to their 2 REITs). Some of the investments they offer are 1031 eligible which are a little harder to find. However, the 1031 eligible deals seem to offer less attractive returns so they didn't seem worth the potential tax advantage. Investment minimums are generally around $25k except for the REITs are $1k. I have a little money in the REIT and it pays 8% annual returns. Payments have been timely, but 8% is less attractive than other investments." -Robert F.
"As a beginner and non-accredited investor Realty Mogul had great customer service – they were willing to hold my hand on calls and speak to the different offerings available, as well as the market in general and what it takes to be an accredited investor. Their 'MogulREIT I' fund just lost 2% NAV due to offering costs, which I think could have been more clearly noted (up to 3% offering costs was mentioned in the offering circular)." -James H.
"My experience with them is very good. My questions are always answered quickly. This was my first platform I invested with, I felt RM did more hand-holding vs other platforms and that was exactly what I needed. Good for beginners or anyone who needs more hand-holding." -Tim C.
"My 1st 2 crowd RE investments were made via RM and I felt they were responsive to my questions and didn't try to really sell me on any specific deal at the time. Adding their platform fee to the investment raises cost to me but I would still consider investing w/them again if the deal was right." -Chris F.
Conclusion
Remember, the equity investments you make today are what set you up for a better tomorrow. Don't let the next great investment opportunity slip by; your future self will thank you later. After all, non-accredited investors don't get a pass on setting themselves up for financial freedom.
FAQ
What is RealtyMogul's Minimum Investment?
The minimum investment to open a RealtyMogul account is $5,000, and the service is open to both accredited and non-accredited investors.
How Can I Reach RealtyMogul Customer Service?
You can contact the RealtyMogul team by sending them an email at [email protected] or giving them a call at (877) 977-2776.
Does RealtyMogul Have a Mobile App?
While there's no RealtyMogul mobile app, you'll still be able to manage your equity investments through their website on both smartphones and tablets.
What Types of Properties Does RealtyMogul Own?
The RealtyMogul portfolio includes office space, retail locations, self-storage facilities, multifamily homes, and industrial factories.