Wealthfront
Fees and Deposit Limits
8.2/10
Account Types and Services
8.2/10
Budget Flexibility
9.5/10
Pros
Low 0.25% management fee
$5,000 managed free (with our link)
Direct Indexing available over $100,000
PassivePlus investment suite
Path mobile financial planning
Cons
Limited options for Impact Investing
Little flexibility for active trading
Wealthfront is one of the biggest and well-established robo advisors on the market. Back in 2016, they managed just over $4 billion worth of investments. For 2021, this robo advisor is now managing over $23 Billion.
Wealthfront is a prime example of a fully automated investing service
In this Wealthfront review updated for 2021, we will determine if this fully-automated robo advisor is still the best service for your investments.
Wealthfront started life as kaChing, which was a mutual-fund analysis company in 2008. Founders Andy Rachleff and Dan Carrol slowly pivoted to wealth management after receiving funding from Benchmark Capital and DAG Ventures among others.
Wealthfront Fees
Wealthfront's $500 minimum deposit is very low. In fact, it's one of the lowest among robo advisors that have a minimum investment amount. This makes it perfect for beginners and first-time investors. This isn't just a ruse to get you to sign up though – even the basic service gets features like Tax Loss Harvesting and fully-managed services.
They also give readers of this website a special offer! Sign up using our link and get the first $5,000 managed for free. On top of that, if you refer any friends to sign up, you get an extra $5,000 managed for free for each friend. Smart marketing, eh?
Wealthfront's annual fee of 0.25% for all accounts is very competitive. It stacks up well against other charges from most of Wealthfront's competitors. Better than most, actually. Betterment, Wealthfront's biggest competitor, charges the same annual fee for their basic service and 0.40% for the premium service. Wealthfront's pricing is all-inclusive. More on that below.
Wealthfront Historical Performance & Returns
Wealthfront provides some insight into the historical returns that investors have seen in the past. Even though past success can't guarantee future success, it gives an idea of what your returns might look like.
When you open a Wealthfront account there is a survey to determine your financial goals and risk tolerance. Wealthfront then assigns your portfolio 1 of 20 risk levels between 0.5 and 10.
You can check previous returns over the past year, three years, five years, and since Wealthfront's inception. There are also differing returns between taxable portfolios (Personal, Joint, and Trust accounts) and tax-advantaged IRAs. In 94% of the historical returns, the tax-advantaged IRAs have better returns. The few exceptions are in the higher risk level portfolios.
The low-risk portfolios with a score of 0.5–2.5 have historically seen returns of around 6%. While the higher risk portfolios 6.5+, have seen better long-term gains of 6–8% since 2012, but worse short term returns.
Here is a quick overview of some of the historical data. All of the returns and risk levels can be found here.
Risk Level
Account Type
1 Year Return
3 Year Return
5 Year Return

Since Inception
(2011-2012)

1.0

Taxable

3.50%

5.36%

4.91%

4.43% 

Tax-Advantaged

6.31%

6.16%

6.00%

5.19%

4.0

Taxable

1.20%

5.14%

5.30%

5.95% 

Tax-Advantaged

4.19%

6.29%

6.66%

7.28%

6.5

Taxable

0.42%

5.07%

5.42%

6.72% 

Tax-Advantaged

1.86%

5.62%

6.33%

7.48%

10

Taxable

-1.23%

4.38%

5.03%

6.74% 

Tax-Advantaged

-0.86%

4.15%

5.10%

7.07%
Flexibility
Wealthfront is a prime example of a fully-automated investing service that provides an almost completely hands-off wealth management experience. This makes it very attractive to investors who simply don't have the time, inclination, or ability to manage their investments manually.
It isn't perfect, though. During this part of our Wealthfront review for 2020, we discovered that the service lacks flexibility in personally managing your accounts. It doesn't offer much leeway to investors who want to get involved, or those who prefer a hands-on approach.
Ease of Use
One of the main selling points of an automated investment service is the ease at which they provide wealth management services, even to the average Joe. In this regard, Wealthfront is at the top of the heap.
Opening an account and getting started with Wealthfront is quick and easy. You simply answer a few questions regarding your finances, and then provide some personal allocations if so desired. From that point on, all of the management of the portfolio created, including rebalancing, reinvestment and tax loss harvesting is entirely handled by the Robo Advisor.
It is in this regard that we declare Wealthfront to be one of the simplest and easiest to use, and comes with a great mobile app as well as desktop platform.
Account and Investment Types
Similar to the vast majority of Robo Advisors, Wealthfront will generally allocate your money between selections of stocks and bond ETFs. While this is fairly standard, the service's provision for both account types and features is nothing short of exceptional.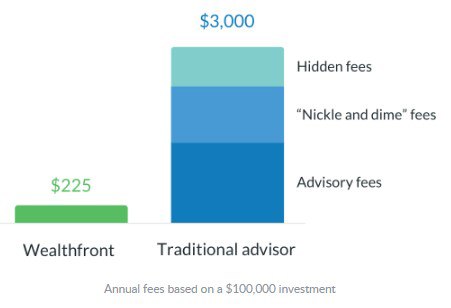 The Wealthfront robo advisor offers both individual and joint taxable accounts, as well as trusts and traditional, Roth, SEP and rollover IRAs. That is arguably the most diverse selection of account types to be found anywhere. We find Wealthfront's range of account features to be equally impressive.
Every portfolio managed by Wealthfront benefits from automated rebalancing and reinvestment to maintain profit potential, and they are also all subject to tax loss harvesting to further improve the efficiency of investments. If your account balance is over $100,000 Wealthfront will activate the Risk Parity feature.
Risk Parity is Wealthfront's attempt to deploy the most sophisticated investment strategies in a cost-effective software. It combines daily tax loss harvesting, stock-level tax loss harvesting, and Smart Bet. Risk Parity equalizes the risk of each asset in your portfolio to constantly maintain a higher rate of return.
The provision for tax loss harvesting is a huge plus, but Wealthfront goes one step further by offering Direct Indexing to accounts worth more than $100,000 and Advanced Indexing for accounts over $500,000. Direct Indexing is a more focused and optimized version of tax loss harvesting. It focuses on harvesting losses on individual stocks in an index, not just the index itself. This can make a huge difference to the value of any portfolio. Advanced Indexing simply weighs the stocks in your portfolio more intelligently.
Wealthfront Cash: A High-Yield Savings Account
In keeping up with the rest of the market, Wealthfront also offers a high-yield cash account. Fortunately, they're also 0.10% APY – a market-leading interest rate in a market full of disastrously low interest rates. To give this some reference, the current national average interest rate is 0.05%. Ouch.
Your Wealthfront Cash account is also protected by up to $1 Million FDIC insurance, comes with no fees, no transaction limits, and no minimum deposit. 
While they don't yet have direct deposit or a debit card available, Wealthfront promises they're on their way.
Sign up for a high-yield Wealthfront Cash account here.
Wealthfront also offers the Path Financial Plan feature. Path is an innovative way to experience financial planning so you can prepare a better financial future. It's easy to use and will only take five minutes to set-up. After signing in, Path will give you an estimate on how much money you should be saving today in order to achieve your retirement or financial goals. This is the first fully-mobile financial planning experience and is a great addition to the plethora of accounts and services that Wealthfront has to offer.
The 529 college savings plan was first offered in 2017. This service makes it easier for parents to open and manage a college savings account for a 0.43% to 0.46% fee, which will vary on the investment expense ratio. The first $5,000 will be managed for free.
Wealthfront also introduced the Portfolio Line of Credit in 2017. This service is available for taxable accounts of $100,000 or more. Portfolio Line of Credit will allow you to borrow cash without upsetting your investment strategy and is available for all eligible accounts with no application required. The best part is that you can easily get the cash you need in just one business day.
Suitability for Different Investment Budgets
With a low minimum deposit amount of $500, Wealthfront is an excellent robo advisor that is perfect for any type of budget. Unlike many of their competitors, Wealthfront provides a full range of account features – including tax loss harvesting – to all accounts regardless of the account balance, making it even more attractive to those with lower budgets.
The very reasonable 0.25% advisory fee will also please investors of varying budgets. While wealthier investors may complain about the lack of discounted fees for larger accounts, they can benefit from Direct Indexing if their portfolio is worth more than $100,000.
Overall Summary
Since its inception in 2008, Wealthfront has grown to be the second largest robo advisor in the world. As long as you meet the low account minimum of $500, you can select from a plethora of outstanding wealth management features.
This includes Passive Plus and Risk Parity that combines automated rebalancing, automatic reinvestment, and daily tax loss harvesting (if it is relevant to the account). Wealthfront makes their service even more impressive by offering their unique Direct Indexing feature to accounts worth over $100,000, making a potentially huge difference to the profit potential of any portfolio.
Despite Wealthfront's reduction of free account management, they are still one of the best robo advisors for reasonable management fees, diverse investment services, and ease of use.
If we were to choose one quintessential example of a robo advisor, it would be Wealthfront.