As the robo-advisor market continues to grow, it can offer services that meet your specific needs. We've looked at the specifics of each robo-advisor and found the best ones for investors with higher net worth.
These five robo-advisors are an excellent choice for individuals who are looking to manage $100,000 or more. Each of these brokers offers something unique and will help you reach your financial goals.
This article will discuss the highlights, main features, and benefits that specifically benefit wealthier investors. We've also linked some in-depth reviews if you'd like to learn more about a specific advisor.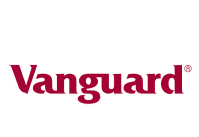 Vanguard Personal Advisor Services
Financial Planning, Management, and Advice
Account types supported:
Taxable
Joint
Roth IRA
Traditional IRA
Rollover IRA
SEP IRA
Simple IRA
Trust
Quick Overview:
$50,000 account minimum
Personalized financial plan
Access to human advisors
Vanguard Personal Advisor Services (PAS) combines the power of robo-advisors with human financial advisors. Vanguard has been a trusted investment service for years, and the Personal Advisor Services, which launched in 2015, now manages $243 billion.
When getting started with Vanguard PAS, there is an onboarding process that can take a week or two. With most robo-advisors, you fill out a short survey to determine your goals and risk tolerance. Vanguard wants to take some extra time to get to know you and set you on the right track.
You will schedule a meeting over the phone or on video chat to talk to a financial advisor. Then you'll get a personalized plan that considers all of your investments and 401(k) 's outside of your PAS account.
Vanguard PAS is perfect for investors with long-term goals, who want to be more involved, and want to add a human touch to a robo-advisor service.
Why Vanguard PAS is excellent for high net worth investors:
The Vanguard PAS fee structure is what stands out to us. The management fee starts at 0.30% APY and goes down to 0.05% for accounts with over $25 million in managed assets.
What could be better:
Compared to other robo-advisors and finance technology, Vanguard doesn't offer the best mobile app. If you love checking up on your investments on your phone, it might feel like Vanguard is a step behind. But this is certainly not a deal-breaker.
Sign up for Vanguard PAS today
---
---
---
---