We may earn a small commission if you sign up for a service or product from this page. This does not affect our rankings and it does not cost you anything. Learn more about how we make money and our review process on our advertising disclosure page.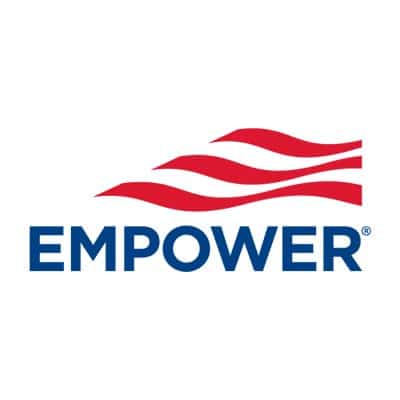 Empower
Who is Empower Best For?
Empower is best for anyone who wants a free personal finance and investment dashboard with excellent features. Their paid hybrid robo advisor isn't cheap, but could be good for high-net-worth investors.
Pros
Mobile app is very easy to use
Syncs all your financial accounts
One of the best free services on the market
Paid service comes with tax loss harvesting, automatic rebalancing and your own personal human advisor
Cons
Steep annual fees on paid accounts
$100,000 minimum deposit on paid accounts
Empower (formerly Personal Capital) is known for providing free and paid wealth management services, combining the power of investing algorithms with dedicated financial advisors.
Empower offers premium personal financial management and a robust set of free money tools. Their financial management is similar to an upgraded version of Vanguard Personal Advisor Services, while their free tools are comparable to Mint and YNAB (You Need A Budget).
Empower started life as SafeCorp Financial Corporation in 2009. Founded by Bill Harris and Rob Foregger, the company changed its name in 2010 and registered as a robo-advisor with the SEC in 2012. In 2020, Personal Capital was acquired by Empower Retirement, and in 2023, renamed Empower. The service has an impressive $23.5 Billion in assets under management (AUM) and 3.4+ million active users.
Annual Fee
0.00% (Free) – 0.49% to 0.89% (Paid)
Free Version
Yes
Minimum Investment Amount
$0 (Free) – $100,000 (Paid)
Total AUM (Assets Under Management)
$23.5 Billion
Headquarters
3 Lagoon Drive, Suite 200
Redwood City, CA 94065
Desktop App
Yes
Mobile App
Yes
Cash Management Account
Yes, 4.45% APY
Socially-Responsible Investing
Yes
Crypto Investing
No
Access to Human Advisors
Yes
Tax Loss Harvesting
Yes
Founded
2006
Customer Support
Live support via email, phone, and social media
Phone
(855) 855-8005
Empower Pricing & Fees
Empower's fees vary depending on account type and balance, and the Free Financial Tools are 100% free forever. The managed services, considered a hybrid robo advisor service, vary from 0.49% to 0.89% annually, depending on your account balance.

Free Financial Tools
Highlights:
A dashboard that's easy to understand
See your monthly cash flow
Start planning for retirement
Save money on 401k fees
The free tools that Empower offers are some of the best out there. Bill Harris, one of the company's co-founders, wanted to create a tool that made retirement planning and money management transparent and easy to navigate.
Empower offers a free retirement planner, investment checkup, budgeting, cash flow, fee analyzer, and education planner. Their mobile app is available for Apple and Android devices and is an easy and convenient way to manage your accounts.
When you create a free account, you can sync your accounts, credit cards, savings accounts, investment, and mortgage accounts, so they're all in one place. You will have a 360-degree view of your finances in one easy-to-use dashboard.
​Track Your Spending
In recent years mobile apps have made it super easy to track your spending. Most people don't get excited when they think about creating a budget, and apps like Empower make tracking your spending almost effortless.
Once you've connected your accounts, you will get an excellent overview of your money coming in and going out. You can also look closely at your income streams and monthly transactions. Their dashboard shows what percentage of your budget is spent on what you need and want.
Like most budgeting tools, you'll be able to categorize your spending into groups. The spending groups show how much you spend on gas, insurance, groceries, and everything else month-to-month.
Usually, only a few bills stay the same every month, which helps you know where your money is going. Keeping track of your monthly income and expenses is one of the best ways to increase your savings, cut down on unnecessary costs, and plan for retirement.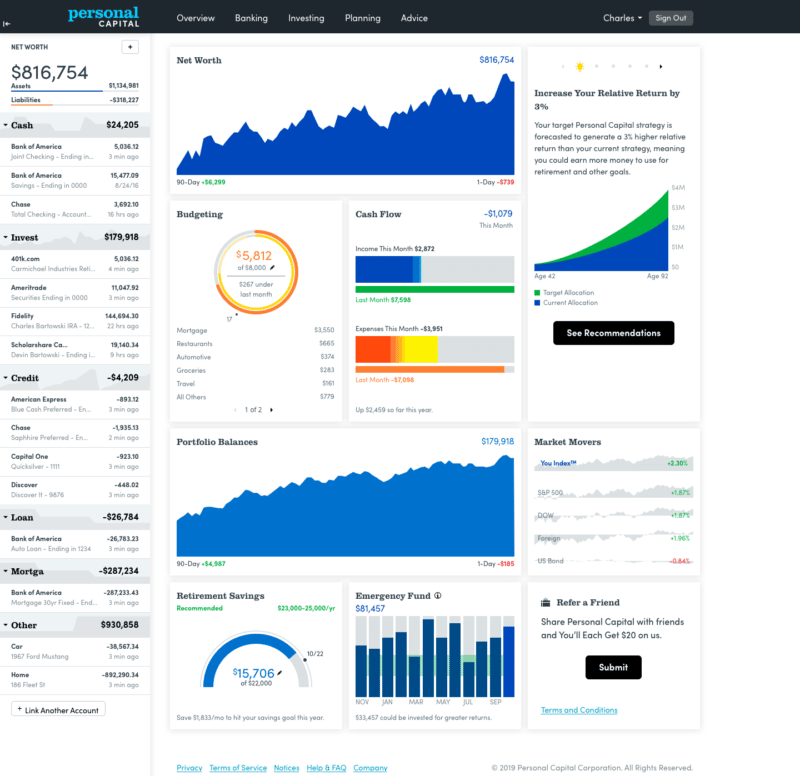 Retirement Planning
The Retirement Planner is a feature that makes Empower stand out compared to the other budgeting apps.
In a 2019 retirement survey, TransAmerica found that only 17% of employers and 18% of employees are confident about having a financially secure retirement. The majority of people are expecting to continue working at least part-time jobs into their retirement.
Empower's Retirement Planner is an easy-to-use tool that helps you plan for a successful retirement, regardless of age and current circumstances. You will be able to see if you're on track to meet your retirement goals, and what you need to do to reach your goals.
You can view how various events, significant expenses, and scenarios affect your retirement plan. You can add that you want to buy a second home, provide your kids with college money, add your pension, social security, and more.
Empower will give you a good idea of how you can meet your goals, and how much you can expect to spend when you retire.
Investment Checkup
The free Investment Checkup tool Empower offers gives you a second opinion on your investments. This tool gives you more of a broad investment overview, while the Retirement Planner provides a more detailed and long-term view.
This tool is beneficial if you have multiple investment accounts and want to look at them in one place. You can assess your risk level, analyze past performance, and compare your investments to your target.
Empower's investment tools make it easy to view your overall investment portfolio health.
Fee Analyzer
The Fee Analyzer is designed to save you money. There can be lots of little 401(k) fees that can quickly go unnoticed.
This tool will help you find alternatives to mutual funds that cost money to be managed. Empower found that switching from a 401(k) mutual fund to a non-401(k) mutual fund saved investors an average of $175 per year.
The Fee Analyzer will give recommendations similar to your current investments without the expensive management fees.
What could be better: Empower offers excellent resources and a great mobile app. The biggest downside is you'll get notifications advertising the premium Wealth Management plans that Empower provides.
Empower Personal Cash
Following in the footsteps of other big robo-advisors like Wealthfront and Betterment, Empower launched a high-yield cash account similar to an online savings account. This account may be the perfect choice if you're using some of the other features that Empower offers, and it provides a higher-than-average APY of 4.45%.
There are no fees, minimum balance, or transfer limits to worry about. And you can link your monthly bills to withdraw from your account automatically.
Check out our full Empower Personal Cash review or sign up here.
Screenshots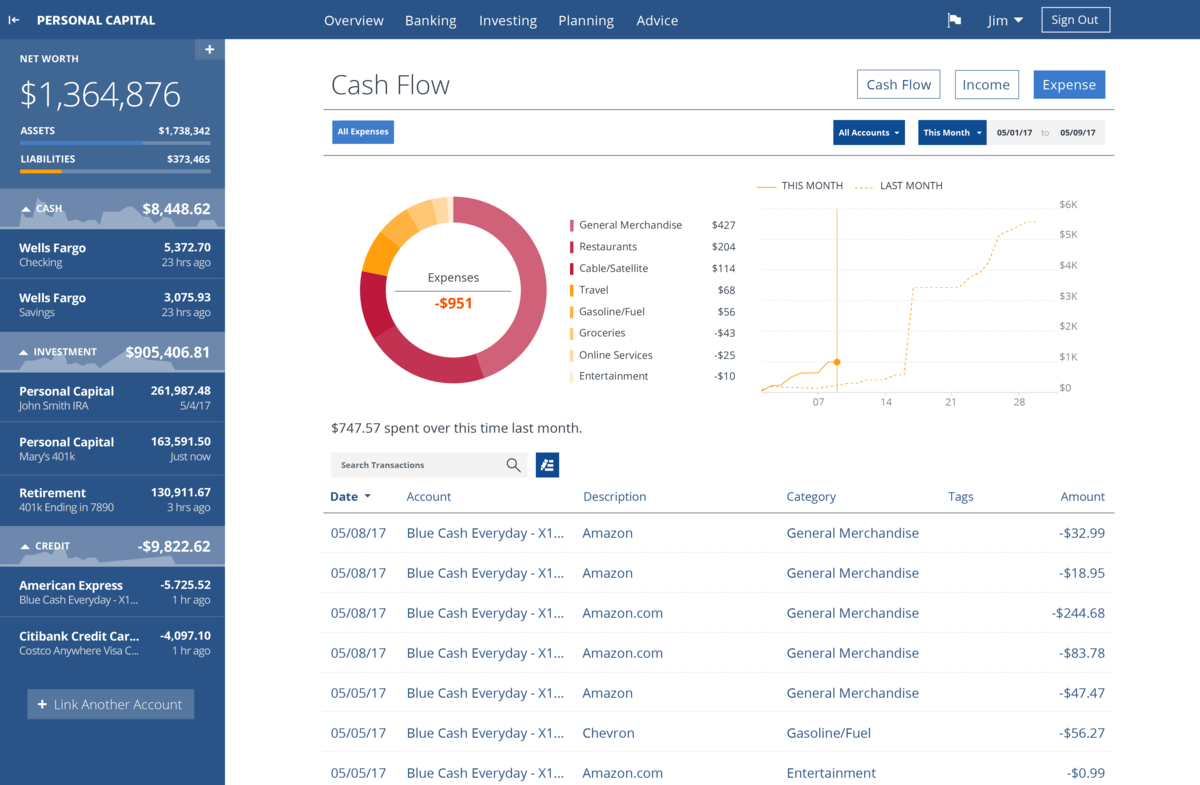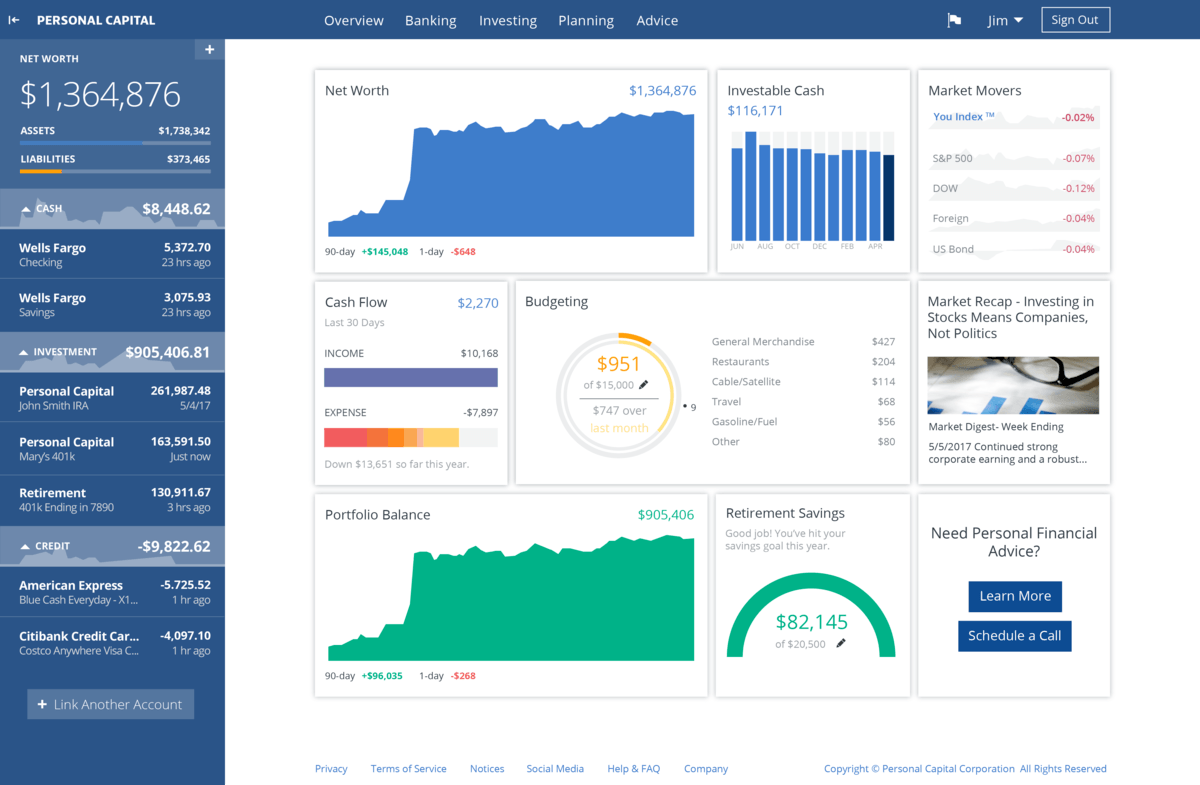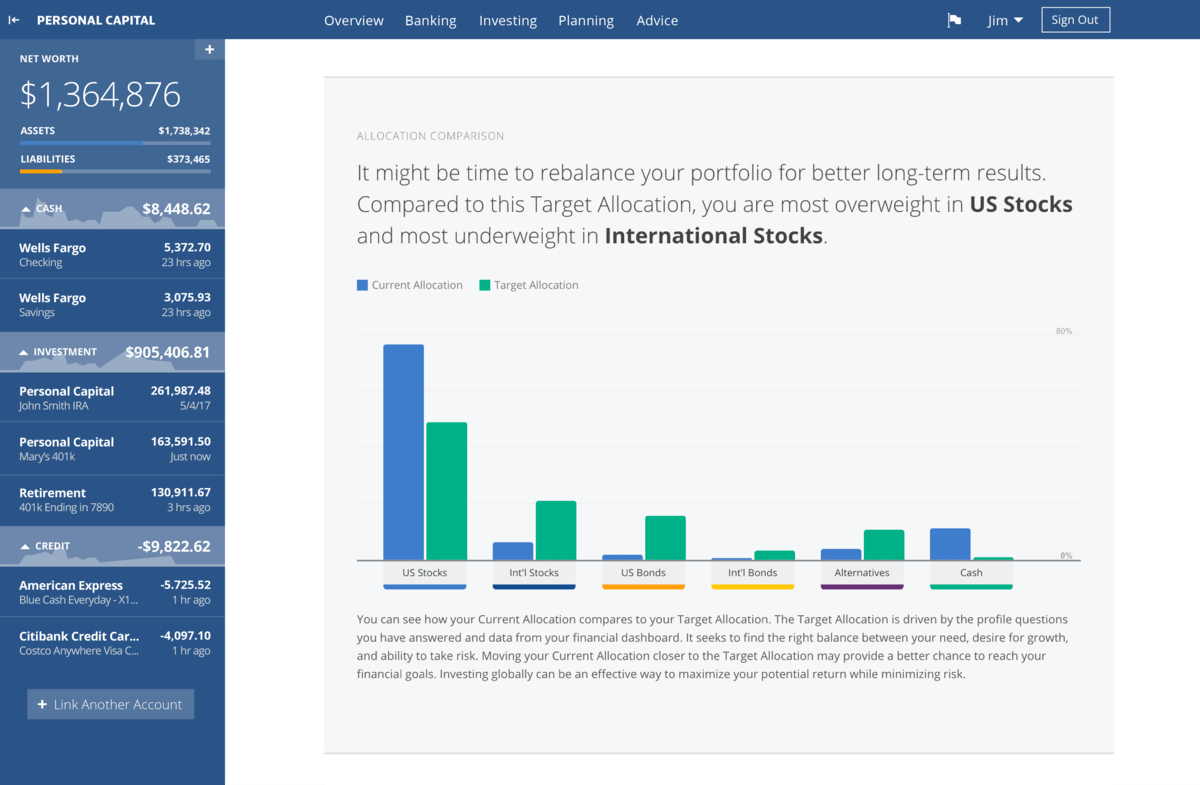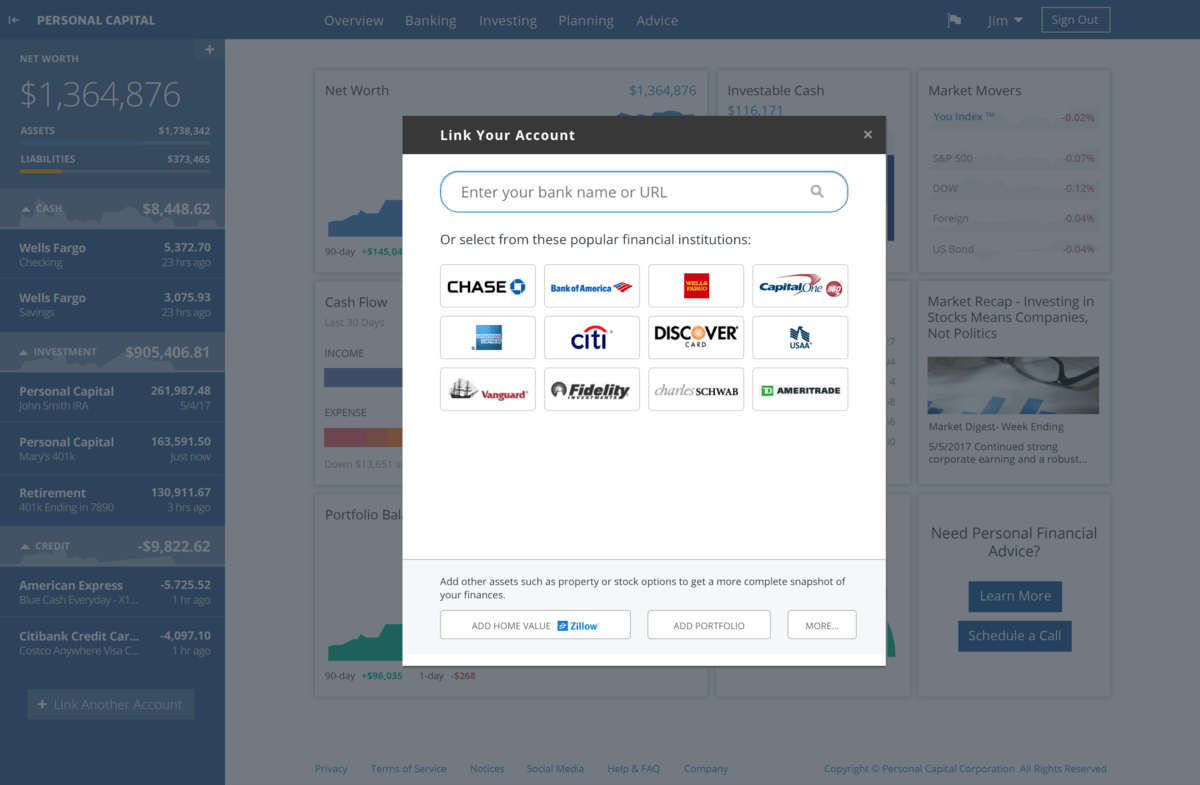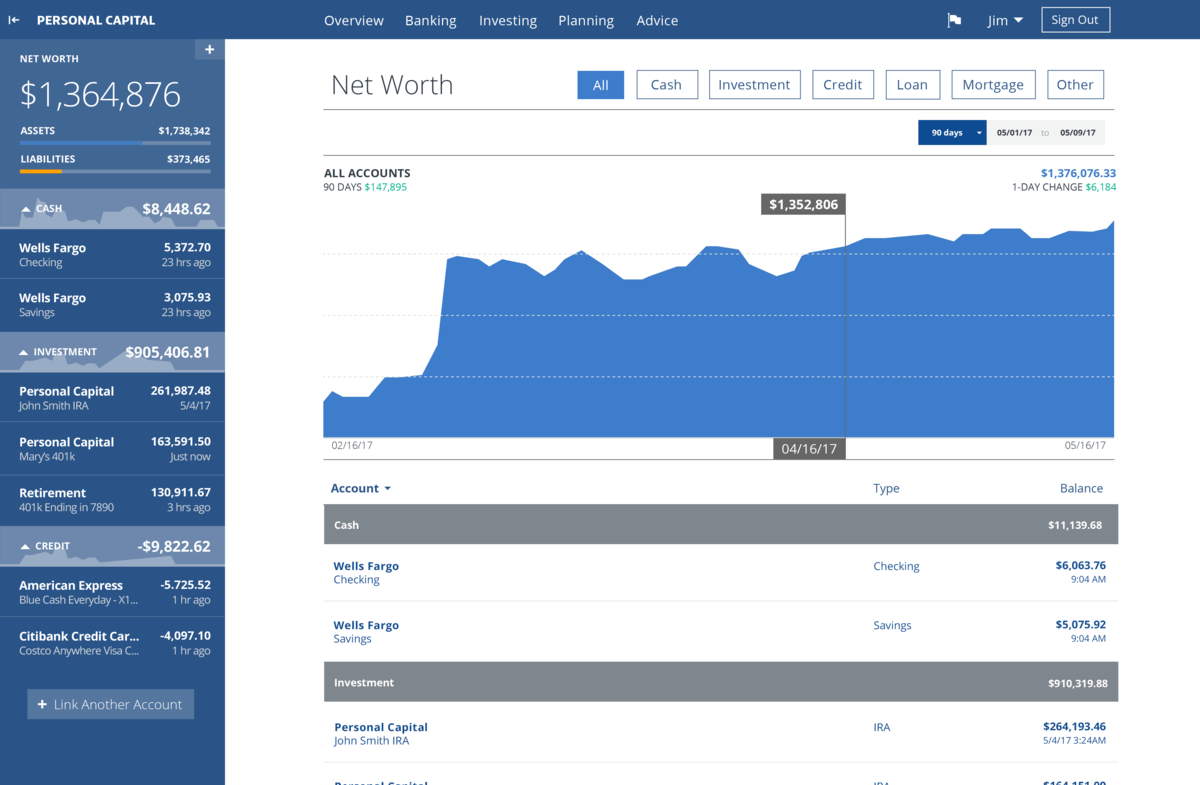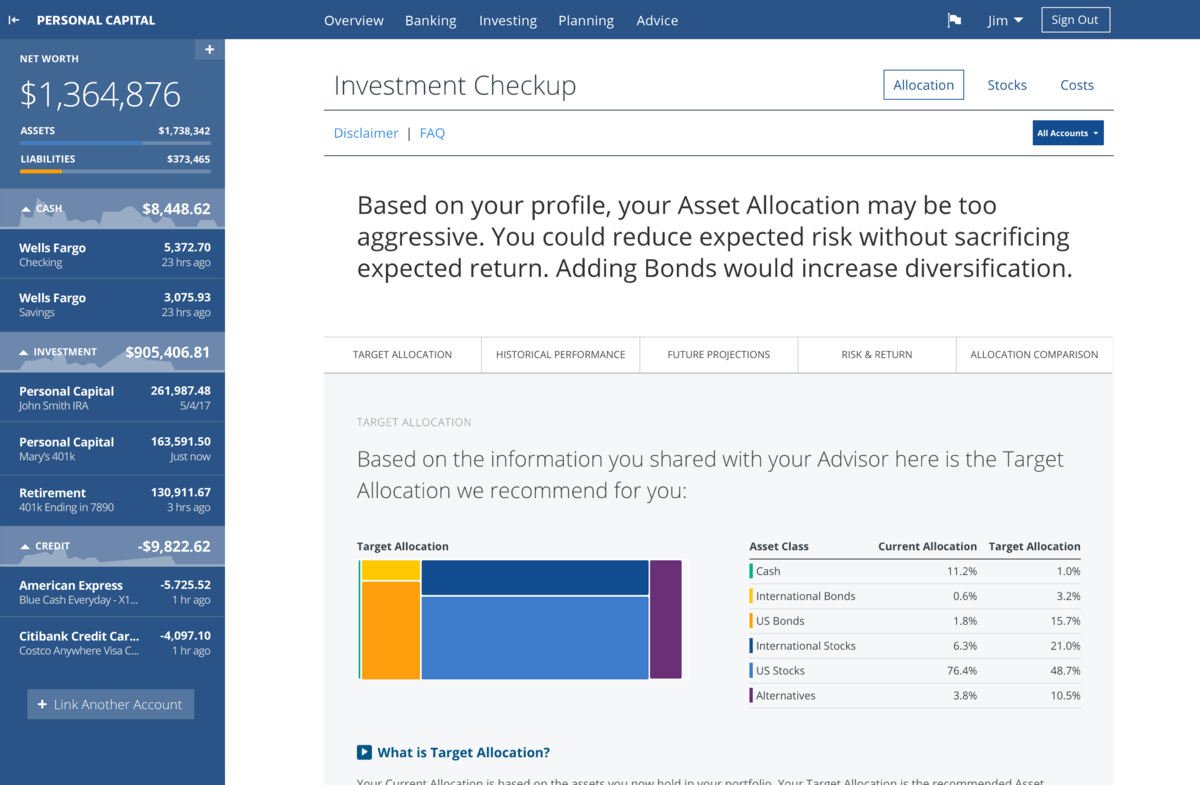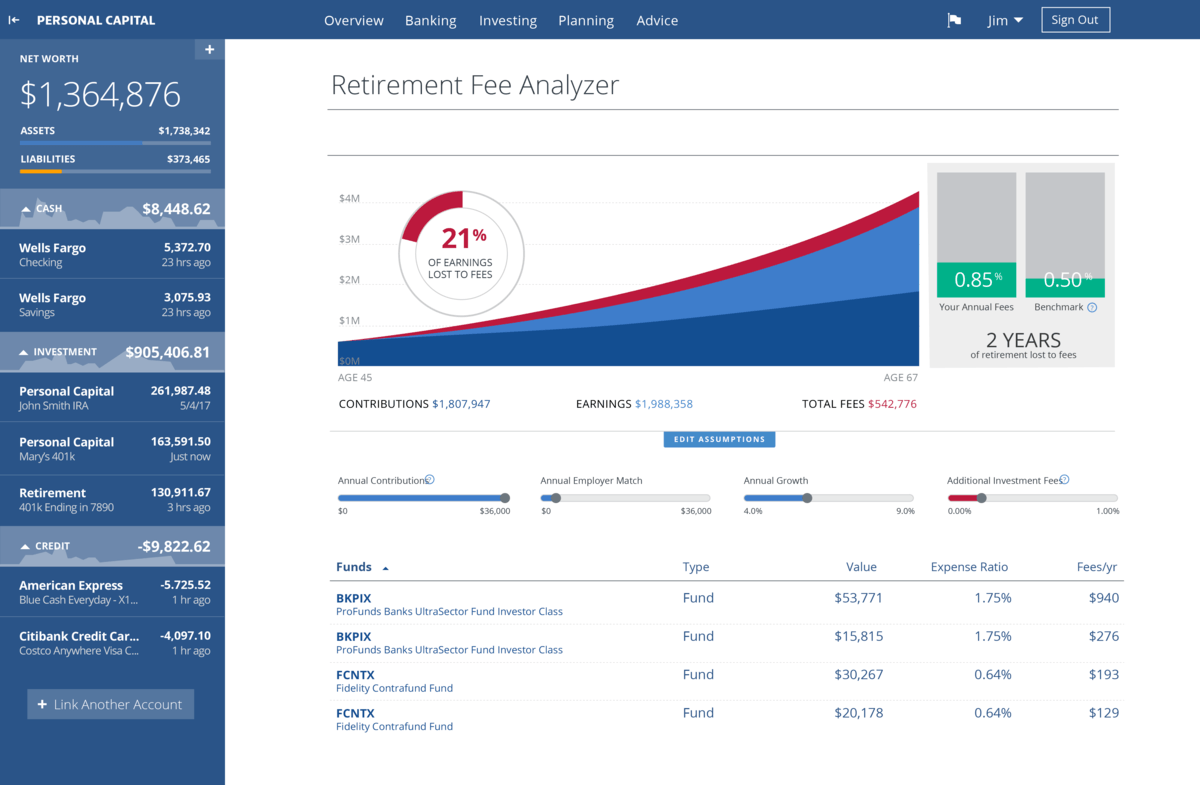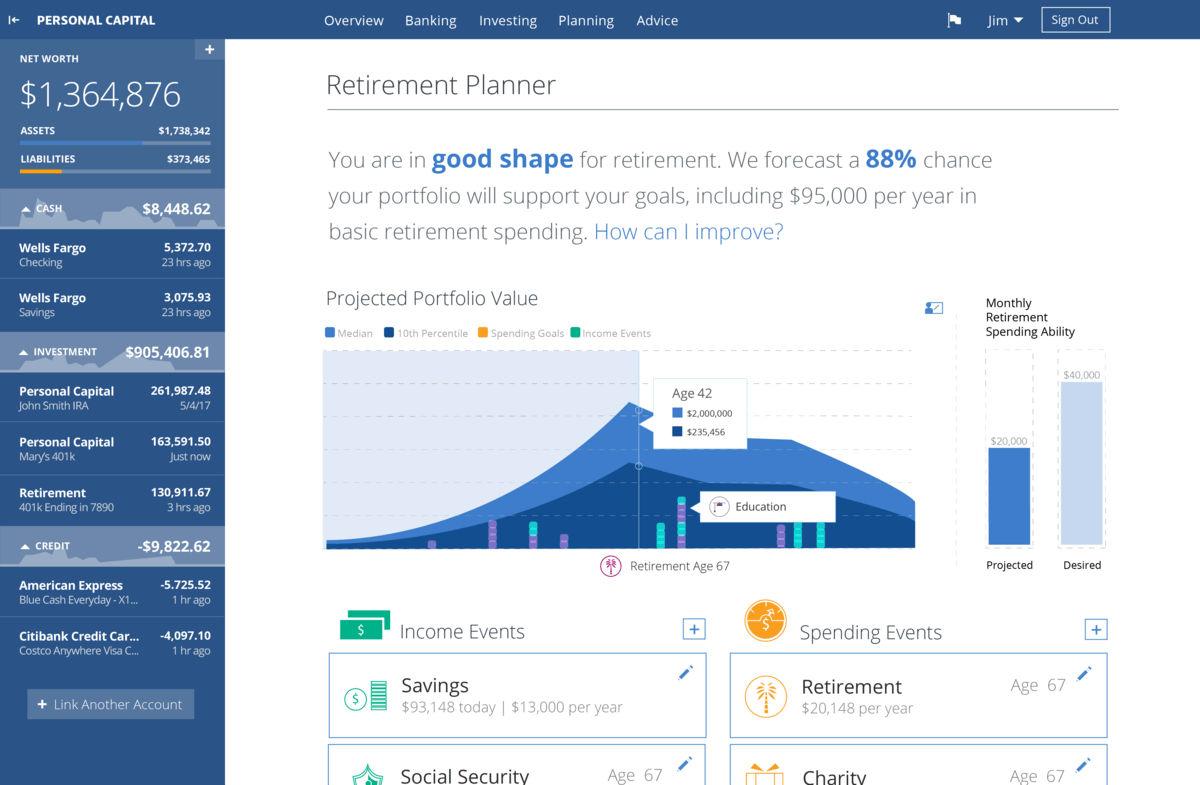 Wealth Management
Highlights:
Access to human financial advisors
Above-average tax-loss harvesting
Investments outside of Personal Capital are taken into consideration
The Wealth Management options are the premium services offered by Empower. Empower provides a service similar to Vanguard PAS, combining robo-advising with free access to human financial advisors, called a hybrid robo advisor.
This investment advisory service requires a minimum investment portfolio of $100,000, and the annual fees range from 0.89%–0.49% depending on your balance.
The high minimum balance and fees mean this service isn't ideal for everyone. There are three asset management plans: Investment Services, Wealth Management, and Private Client. Every plan includes financial planning, access to advisors, portfolio monitoring and rebalancing, and more.
Empower supports non-retirement and taxable accounts, Roth, traditional, rollover and SEP IRAs, and Trusts. They will also consider your 401(k) and 529 plan and any other investments they aren't managing when providing financial advice.
Investment Services – $100k-$200k Managed Assets
The basic investment services still have a lot to offer. You can expect a personalized investment strategy and advice from a real financial advisor. Empower will work with you and your unique situation to create a plan perfect for your needs.
You will have access to a team of financial advisors by phone or email.
The annual fee for Investment Services is 0.89%, with no hidden fees or trade commissions. This is significantly more expensive than other hybrid robo advisors such as Vanguard Personal Advisor Services, but less than a human financial advisor, which is more aligned with Empower's services.
Wealth Management – $200k-$1M Managed Assets
Once you have over $200,000 in assets managed by Empower, you will have access to more resources and everything offered by the Investment Services plan.
With the Wealth Management plan, customers will have access to two dedicated financial advisors, and a team of specialists if more help is needed. Customers can also access a more customizable portfolio and individual stock implementations.
The annual fee for Wealth Management stays at 0.89% until your balance reaches $1M.
Private Client – $1M+ Managed Assets
The Private Client plan is for those with over one million in assets. With the Private Client plan, the annual fees decrease, and customers can access more benefits.
The Private Client benefits include everything offered in the lower plans, estate, and legacy planning, access to private banking services, and private equity and hedge fund reviews.
Private Client Fees
| | |
| --- | --- |
| Account Balance | Annual Fee |
| $1M – $3M | 0.79% |
| $3M – $5M | 0.69% |
| $5M – $10M | 0.59% |
| $10M+ | 0.49% |
Check out this Plan Comparison Chart (PDF) to see a complete list of benefits offered with each wealth management plan.
Tax Strategy
Empower's tax strategy is one of the best compared to other robo-advisors.
Empower will place your assets in various account types to help minimize the taxes you pay. Tax-loss harvesting is used to offset your capital gains, which means you pay the IRS less in taxes.
Empower also offers withdrawal strategies to minimize taxes as you use your money during retirement.
What could be better: Not everyone has $100,000 in their investment portfolio, and not meeting that minimum limits your options to the free tools Empower offers.
Ease of Use
The Empower mobile app is one of the best we've used. This review allowed us to try the app to see how it compares to the desktop application. Both are incredibly easy to use, and first-time investors will have no problem getting accustomed to the interface.
Opening an account is one of the easiest we've tested so far. All your accounts will be synced automatically in one central location.
The free financial tools are great and give you a clear overview of your accounts for easy management. If you have a paid account, you'll have access to dedicated human financial advisors, and there are reports that each human advisor handles around 200 clients. Still, you can easily schedule a friendly consultation via phone, email, or chat if you have any questions or concerns.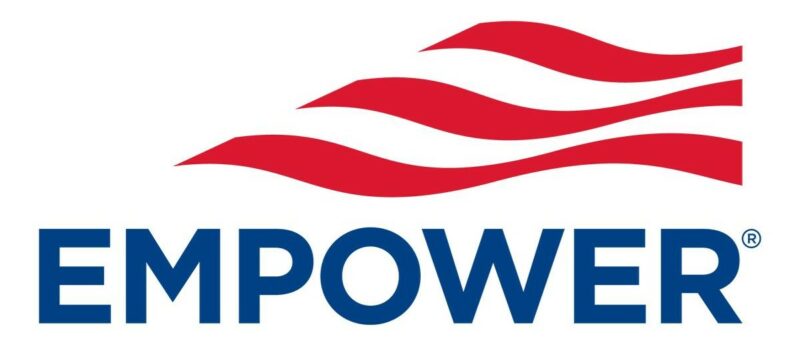 With Empower's Socially Responsible Personal Strategy, investors can choose companies that make efforts to manage environmental, social, and corporate governance issues. Empower partners with Sustainalytics to determine the best options in your socially responsible investment (SRI) practices.
This new style of SRI investing focuses on three pillars that assess each corporation's social merits: Environmental, Social, and Governance. Environmental includes sustainability, renewable energy, and climate change efforts. Social focuses on labor relations, diversity, and conflict minerals. Governance studies management structures, board independence, and company executive compensation.
Using a combination of filters and ranking methods, Empower offers investors the best companies making a positive social and environmental impact. This allows you to invest in companies that align with your personal and social beliefs.
Conclusion
Summing up our Empower review, we like the free service that offers a comprehensive list of free tools – budgeting, retirement planner, and 401(k) fee analyzer – and the ability to sync all your accounts.
The free services offered are brilliant and available to everyone. However, the paid Wealth Management services are designed for investors with a high net worth and those looking for advanced investment advice.
Empower is unique in that they offer some of the best free and paid money management tools. The fees are pretty high compared to some other robo-advisors on the market. Still, you get top-notch services, personalized advice, and access to human advisors.
Frequently Asked Questions
Is Empower worth the fee?
Most robo-advisors are less expensive than Empower. Unless you have over $1 million being managed, the fee is 0.89%. The higher fees are because you have unlimited access to real financial advisors, and In-person financial managers will cost at least 1%, so Empower's service is less expensive.
Is the Empower App safe?
Which accounts can link to Empower?
You can link most financial accounts to your Empower account. The main criterion is having a username and password to log in. You can connect bank accounts, 401(k)s, investment accounts from E*Trade and Robinhood, and more. You can add a manual account to add assets like your home, vehicles, or other investments.
Is Empower available worldwide?
You can access Empower from anywhere, but they only support US-based financial institutions, and you will need a US phone number to sign up for your account. You can join international accounts by adding a manual account, but it won't update automatically.
Can my spouse/family use Empower?
You and your family may want to put all of your financial info into one Empower account to view your net worth and cash flow. This is possible under certain circumstances. You can add as many bank accounts as you need. If everyone in the family uses Chase, ensure that the person connecting with Empower has access to every Chase account.
You can also open a Joint Personal Cash account to save and plan with your spouse.