We may earn a small commission if you sign up for a service or product from this page. This does not affect our rankings and it does not cost you anything. Learn more about how we make money and our review process on our advertising disclosure page.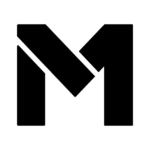 M1 Finance
Who is M1 Finance For?
M1 Finance is a very flexible, free, and powerful robo advisor with many features. They have clearly made their platform great for both beginner and more advanced investors, with the ability to set-it-and-forget-it, or be more active in your trading activities. We highly recommend M1 Finance for all investors.
Pros
Zero trading or management fees
Diversified investment options
Socially-responsible investment portfolios
Customizable pie portfolios
Cons
No tax loss harvesting
Automated service is not ideal for active traders
Limited customer support
M1 Finance is a robo-advisor that offers customizable portfolio options. M1 also boasts low startup costs and $0 transaction and trading fees. You can start investing on your computer or on the go using their mobile app.
M1 Finance was established in 2015 and has quickly become one of the top automated investment platforms.
Many consider M1 a perfect blend of a traditional brokerage firm and a hybrid robo-advisor. What makes M1 unique is the investment portfolio template. When setting up your investments, your options are presented as investment pies (pie charts) showing the breakdown of your investment portfolio. We find this to be a great way to visualize a portfolio. We like the flexibility of choosing pre-built expert pies (for beginners) and creating your own pie (for more hands-on investors.)
We have used various robo-advisors and found that M1 Finance's pie charts make allocating your investment funds simple and easy compared to other dashboards.
Annual Fee
0%
Minimum Investment
$100
AUM (Assets Under Management)
$6.0 Billion
Free Version
Yes
Headquarters
213 W Institute Pl #301
Chicago, IL 60610
Desktop App
Yes
Mobile App
Yes
Socially-Responsible Investing
Yes
Customer Support
Live support via email and phone
Email
[email protected]
Phone
(888) 714-6674
Transfer Bonus
M1 Finance offers a transfer bonus of up to $4,000 for transferring your account from another brokerage to M1.
The bonus structure is as follows:
| | |
| --- | --- |
| Account Value | Promotional Credit |
| $10,000 – $19,999 | $40 |
| $20,000 – $49,999 | $75 |
| $50,000 – $99,999 | $150 |
| $100,000 – $249,999 | $250 |
| $250,000 – $499,999 | $500 |
| $500,000 – $999,999 | $1,000 |
| $1,000,000 – $1,999,999 | $2,500 |
| $2,000,000 + | $4,000 |
Head over to their transfer page to learn more.
---
M1 Finance Fees & Minimum Balance
M1 Finance is ideal for investors who are just getting started, as there is a $0 minimum balance and zero fees.
M1 has focused on making money through loaning cash through M1 Borrow, interest, and M1 Checking so that they can eliminate asset management fees for investors.
You can open an account without making an initial deposit. Still, you will need $100 to begin trading and at least $500 for a retirement account. These minimums are lower than most other robo-advisors and provide more investors with an opportunity to start.
Betterment also offers a $0 minimum balance, but the digital plan comes with an annual fee of 0.25%. And Wealthfront requires a minimum investment of $500 with a 0.25% fee.
0.0%
Annual Fee
There are only a few fees you may incur with M1 Finance: when you sell a stock or ETF, or when your account is inactive. When you sell an ETF or individual stocks, there is a mandatory SEC fee, usually only a few pennies. There is a $20 inactivity fee for accounts over $20 that have no activity for 90+ days.
The premium option, M1 Plus, costs a flat fee of $125 per year.
M1 Finance Performance & Returns
M1 Finance does not provide general information on historical returns, but for a good reason; it varies wildly from investor to investor. Depending on which "pies" you've chosen, if you've modified a pie or stuck with an expert's build.
Expert Pie Performance
M1 Finance does provide performance information on their Expert pies as you're researching them for your portfolio. Here are a few examples:
5 Year General Investing Moderate Risk Performance
5 Year Responsible Investing Performance
5 Year Berkshire Hathaway Pie Performance
Account Types and Services
M1 Invest offers taxable, joint, and Roth IRA accounts. You can also invest your money in a Traditional IRA, Rollover IRA, and SEP-IRA account.
M1 Finance's M1 Invest platform offers pie templates for many types of investment categories. This includes general investing, retirement investing, income portfolios, and hedge funds. As an added plus, M1 offers pies for socially responsible investing, which allows you to invest and make a positive impact.
Like we mentioned earlier, M1 Finance comes with the usual taxable and joint account options, including Roth, Traditional, and Rollover IRAs. And you will need a minimum of $500 to open a retirement account.
We particularly like how the service integrates pie portfolios for impact investors. Thankfully, socially responsible investing is not a trend or fad; it's here to stay. We are also seeing other top robo-advisors integrating options for socially responsible investing in their portfolios.
What are the downsides of M1? We found two: no tax-loss harvesting and no option to invest in mutual funds. Investors do have the opportunity to invest in a wide variety of ETFs and purchase fractional shares of stock, so your options are not exactly limited.
M1 Borrow
M1 Borrow is a low-cost line of credit that allows you to borrow using your M1 Invest balance as collateral. As long as your total account balance is at least $5,000, you can borrow up to 35% of your portfolio balance at a base interest rate of 3.5%.
You can use this line of credit as an emergency fund, for a large purchase, or to consolidate higher-interest debts. M1 Plus members can borrow at a base rate of 2.0%.
Borrow can also be seen as a Margin Account, meaning you can use the money you borrow and reinvest it. Please note that there are some extra risks involved with margin accounts, but the idea is that you can earn more than the borrowing rate (2.0% – 3.5%) by investing it.
Please read our full M1 Borrow Review here.
M1 Checking
In mid-2019, M1 Finance launched its M1 Checking account – this is a free checking account that offers direct integration with your other M1 services. This checking account has a $0 minimum balance, no monthly or annual fees, and your money is FDIC-insured up to $250,000.
M1 Checking is a great option if you like to keep track of your personal finances in one place. You will be able to transfer your money between M1 Checking, Invest, and Borrow. And M1 will send you a Visa debit card to use at stores and ATMs.
There are more benefits added to this account with an M1 Plus account.
M1 Owner's Rewards Credit Card
In September 2021, M1 introduced the Owner's Rewards Card – a credit card designed to help grow your investment portfolio by automatically reinvesting cashback rewards from select partners.
There are four tiers of cashback rewards; some top brands like Tesla Motors, Adobe, Dropbox, Netflix, Peloton, and Spotify have an amazing 10% cashback.
Some airlines (American, Delta, Southwest, United, JetBlue), food services like Starbucks, Domino's Pizza, and Chipotle, and some other everyday brands like UPS, Nike, and FedEx have 5% cashback, a few dozen other everyday brands like Apple, Home Depot, Walmart, Best Buy, and Whole Foods offer 2.5% cashback. Everywhere else has an automatic 1.5% cashback.
The money you earn from spending can get automatically reinvested into your M1 Finance Invest account to grow your portfolio over time. If you consider compounding interest, this can be very significant.
The M1 Owner's Rewards credit card costs $95 per year for basic members, but the fee is waived for M1 Plus members.
M1 Plus
M1 Plus is M1 Finance's premium membership program. For a $125 annual fee, you have access to several benefits:
1.7% APY on your M1 Checking account balance
1% cashback on all purchases with your M1 Checking card
A tungsten metal M1 Checking debit card
Additional trading windows in your M1 Invest account
1.5% discount on M1 Borrow line of credit's interest rate
Access to the M1 Owner's Rewards Credit Card with no extra fee
Is M1 Plus Worth It?
As with most things, it depends on your specific needs and risk tolerance. Deciding if a Plus account is worth the cost depends on your spending and saving habits. A Plus account's main benefits are the 1% cashback, savings APY, and Borrow discount. If you also have the Owner's Rewards Card and spend money on the partnered brands, you could see the cost for M1 Plus pay for itself many times over.
If you have a decent-sized balance in your M1 Checking portfolio (say $10,000) and spend an average of $1,000/month on your debit card, you will have a positive return from investing in the Plus account. But let's also consider the alternatives.
If you usually have $10,000+ in your checking account with a low or no-interest checking account and don't have a card with cashback, M1 Plus will be an upgrade.
On the other hand, if you have a larger balance in a high-yield savings account, have a credit card that gives you 1-3% cashback, and pay off your credit card balance every month, you wouldn't be getting the full advantages.
It would help if you also considered your habits and convenience. Having all your investments, checking, and credit in one place is more convenient. But, you might not get as much of a financial return compared to a more complicated setup.
Overall, M1 Plus is a good investment for some, and it's not overly expensive. There is a possibility of adding features and benefits that will make Plus appealing to more people in the future. You will need to pay for 12 months upfront, so make sure you're going to take advantage of all the benefits.
The M1 Checking account alone doesn't make much sense unless you enhance it with the M1 Plus benefits; you just need to decide if it's worth it.
With the Owner's Rewards Credit Card, if you spend $1,250 per year or more on any of their 10% cashback partners, that alone will pay for the cost of M1 Plus.
Screenshots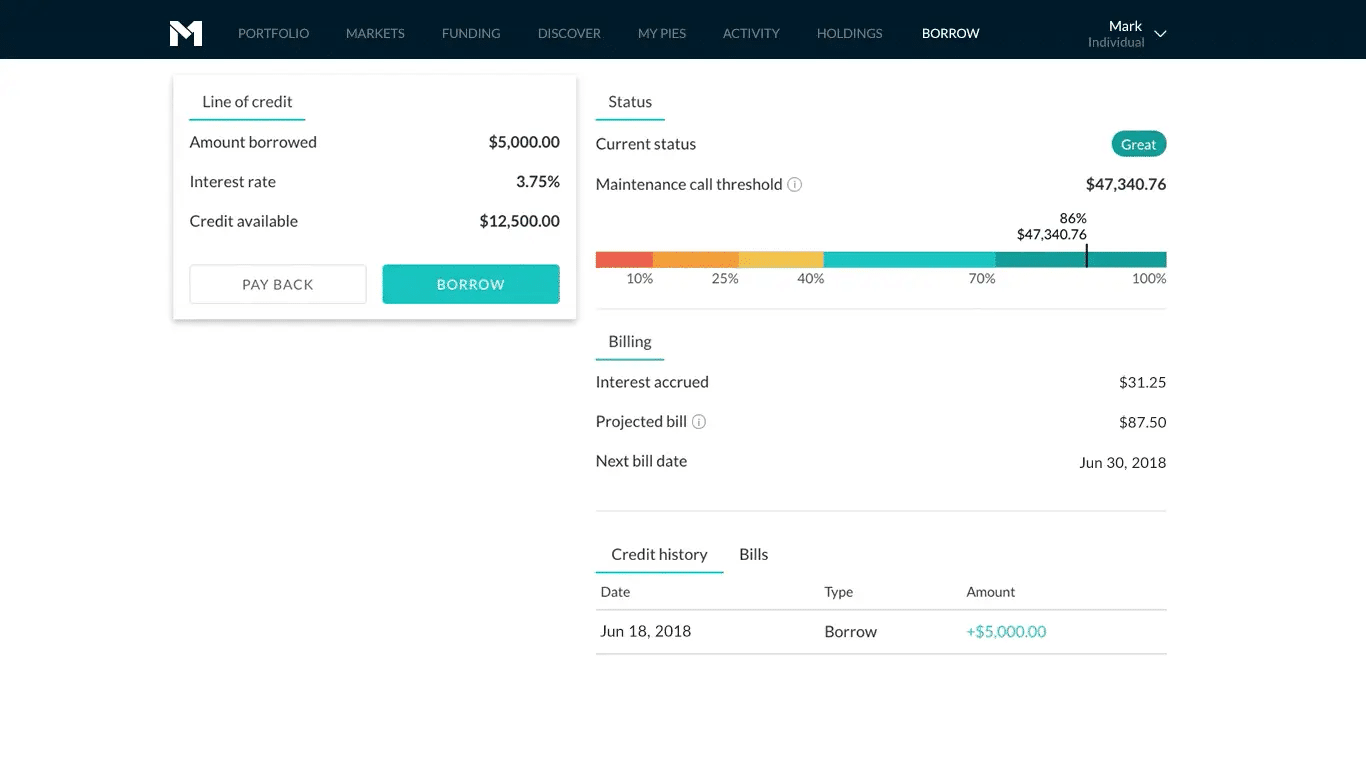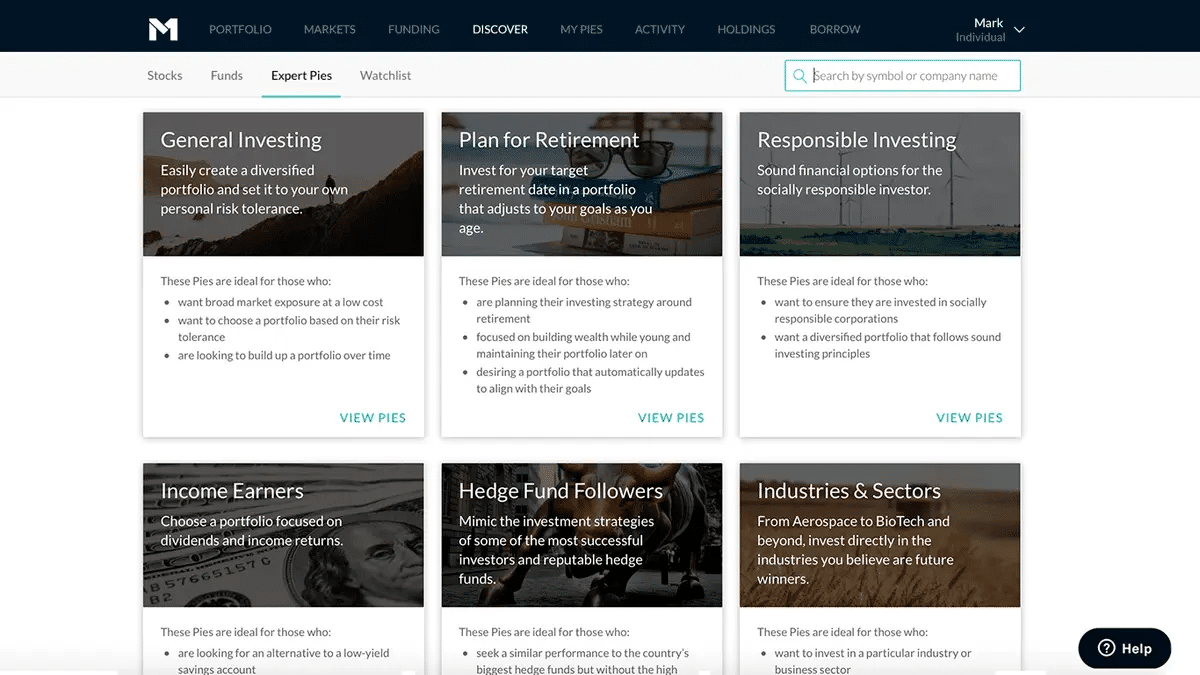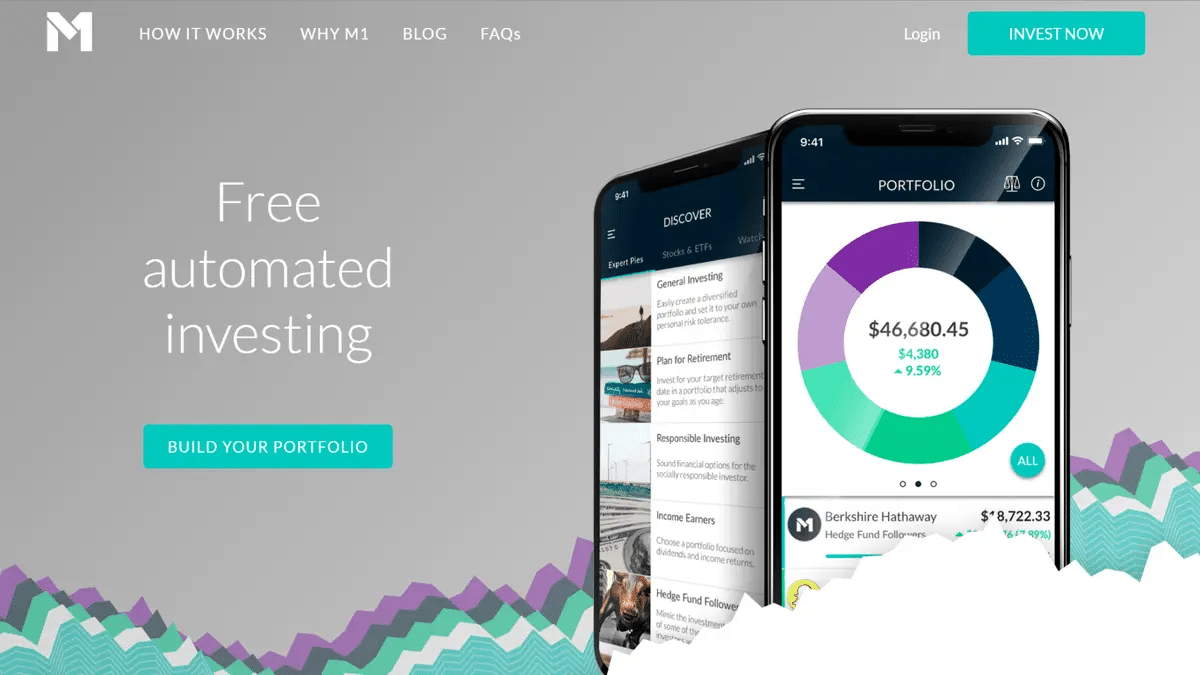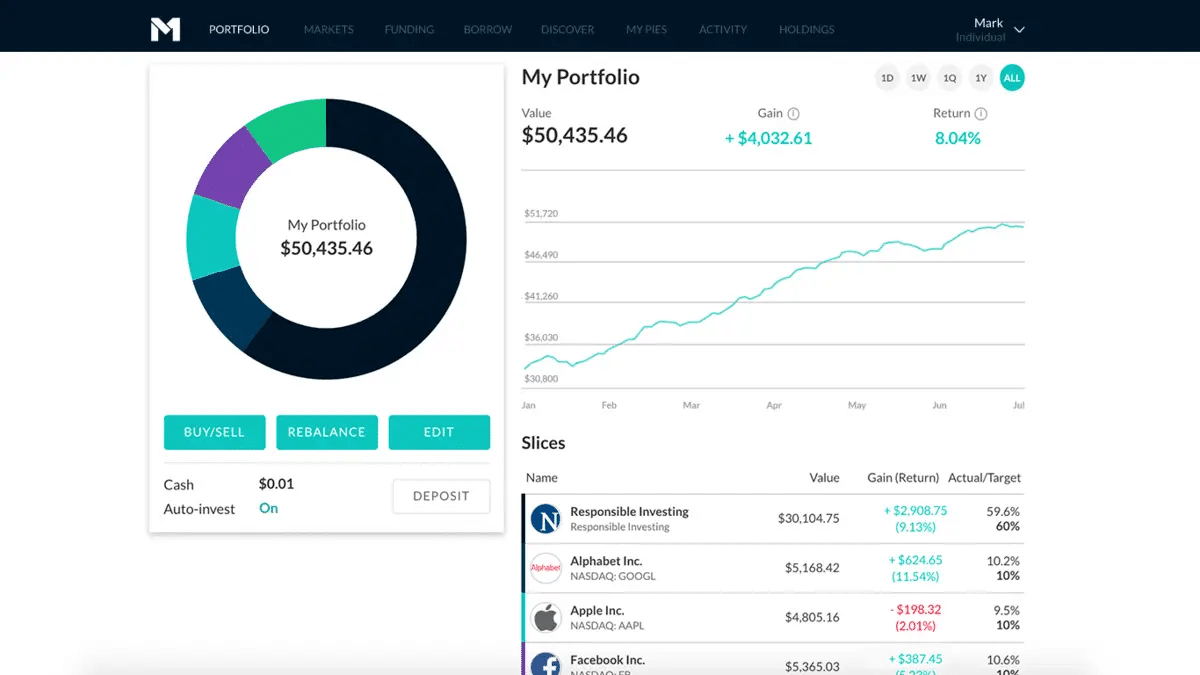 Investment Flexibility
The M1 Finance robo-advisor scores high in terms of the flexibility offered to investors. M1 Finance offers incredible portfolio diversity to cater to your specific needs and goals. M1 is designed to help investors reach their long-term goals, retirement portfolios, and general investing and might not be ideal for day traders or swing traders.
You can choose from one of the pre-made pie investment templates. The pies are based on Modern Portfolio Theory (MPT), the same system bankers and human advisors use.
You can start investing your money in one of the many pre-built pies, or you can customize the pies according to your preferences. M1 Finance manages your account by maintaining all your allocations and automatically rebalancing your investment portfolio as needed.
The service will also allow you to choose your own investments for each pie. Once your account is set up, you will see your performance by looking at your investment pie. You set a target for each slice of your pie, which will appear bigger or smaller, depending on its performance. As you invest in your pie, M1 Finance will move your money to align with your investment goals.
Stock and ETF Trading
In addition to creating a custom pie, you can invest in ETFs and individual stocks. There are more than 2,000 ETFs to choose from, and you can invest in fractional shares of stocks to ensure that all of your money is invested.
M1 Finance offers one trading window to all investors and two possible trading windows for Plus members. This means your trade orders will be completed at 10:00 am EST Money-Friday. You can schedule trades after 10:00, but they won't be completed until the next business day.
With an M1 Plus account, you will be able to trade in either the 10:00 am window or the 3:00 pm window. And if you have a balance of over $25,000, you can trade in both windows.
If investing becomes overwhelming, you can schedule a free consultation with a human advisor or read some investment education articles on M1's website.
Customer Service
The customer service offered by M1 is minimal. You are not paying for a financial advisor, so most of the financial decisions you make will need to come from your own research. The M1 team can help you with technical issues over the phone and via email. Their website also offers great articles and how-to videos.
Ease of Use
While reviewing the M1 Finance platform, we quickly familiarized ourselves with the pie charts, and it allowed us to view our investment allocations with a single glance.
You can click on various portfolio movers to learn more about the company or stock. It will also display the stocks' weekly, monthly, and yearly performance and estimate future performance.
You might expect a limited experience if you're managing investments from your smartphone, but this isn't the case. The app is easy to use and offers a user-friendly dashboard with your account balances. And M1 has an overall rating of 4.6/5 in the App Store.
Unlike some other Robo Advisors, signing up with M1 Finance will not require you to answer surveys and questionnaires. Instead, you can decide to use either pre-made or custom-made pie graphs after signing up. Each pie can be divided into as many as 100 slices, where each slice represents an investment.
There are more than 80 pre-made pies for you to choose from. If you don't find exactly what you want, you can replace any ETFs or stocks with whatever you like.
Once you choose how to invest, the automated system will handle the rest. M1 Finance gives you control over your investments and ensures that you will reach your goals.
You have a few options when you start earning dividends from your investments. You can choose to reinvest all of your cash automatically, invest cash over a set threshold, or hold onto the money. Having the ability to purchase fractional shares is great because you don't need to wait to buy individual stock. You can reinvest dividends and grow your account instead of having idle cash.
M1 Finance is perfect for beginner investors with no minimum balance or management fees. They make it easy to invest how you want to and give you the confidence that your investments will grow over time.
The $100 minimum balance for active trading on an automated investment platform is one of the lowest you will find.
Intro Video
The customer service offered by M1 is minimal. You are not paying for a financial advisor, so most of the financial decisions you make will need to come from your own research. The M1 team can help you with technical issues over the phone and via email. Their website also offers great articles and how-to videos.
Suitability for Different Budgets
With a $0 minimum deposit and zero fees, M1 Finance is perfect for investors of all shapes and sizes. You can open an account with no money at all, but of course, your account will need to reach at least $100 to begin investing.
We find M1 Finance to be excellent for new investors. The $100 minimum balance for active trading is the lowest you can find.
Overall Summary
From the beginning of this M1 Finance review, it's clear that M1 Finance is the best free robo-advisor currently available. M1 offers a service that's easy to use, has zero fees, and offers impact investing,
Some of the other M1 services will be valuable to some and not to others. If you have a decent-sized balance in your M1 Invest account and need to borrow some money, the M1 Borrow program is a great way to feel more comfortable investing a more substantial portion of your money.
Since M1 Invest is free, SIPC-insured up to $500,000, and has a very low barrier-of-entry, we think it's an excellent option for almost everyone looking for a robo-advisor investment platform.
If you're ready to start investing and preparing for retirement, sign up for your M1 Finance account today!
Is M1 Finance Legit?
Yes, M1 Finance is legit. We've invested our own money into the service and have been very impressed with the outcome. The free service is excellent, and if you want to take advantage of better rates and financial tools, M1 Plus could be a good option for you.
How Does M1 Finance Make Money?
While M1 Finance offers many free financial and investment tools, they also offer loans, a credit card, and a checking account. They also offer a premium membership called M1 Plus, which has an annual fee.
Does M1 Finance Offer Crypto?
M1 Finance does not currently offer cryptocurrency trading.
Is M1 Finance Safe & Secure?
Yes, M1 Finance is SIPC insured for up to $500,000, and FDIC insured for up to $250,000. All data transferred through their system is secured with military-grade 4096-bit encryption. They also offer Two-Factor Authentication (2FA) on all accounts.