We may earn a small commission if you sign up for a service or product from this page. This does not affect our rankings and it does not cost you anything. Learn more about how we make money and our review process on our advertising disclosure page.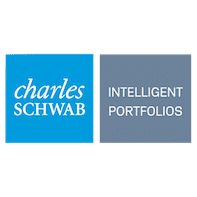 Schwab Intelligent Portfolios
Account Types and Services
92
Pros
No fees, commissions, or service charges
Large selection and variety of investment options
Daily re-balancing ensures optimal profit potential
24/7 professional advice and support
Cons
Portfolios include a large cash allocation
The
ETFs
recommended tend to have higher fees
Tax loss harvesting only available to accounts over $50,000
Our Schwab Intelligent Portfolios review will provide you with much-needed insight into the robo advisor from Charles Schwab. Hopefully, this will help you decide if this Robo Advisor is right for you.
Schwab Intelligent Portfolios was established by the Charles Schwab Corporation, a firm that has an impressive $7.57 trillion (yes, with a "T") worth of assets under management (AUM) and has been around since 1971.
Their entry into the field of automated investing is proof that Robo Advisors should be taken seriously, as they offer low fees and great returns even without the touch of a human advisor.
Investors of all shapes and sizes will enjoy the absence of management fees.
In fact, the Schwab robo advisor is one of the very few completely free robo advisors on the market. But the fact that they don't charge any fees doesn't mean you should jump on the chance to open an account right away. Read on for more.
Schwab Robo Advisor Fees
In the first part of our Charles Schwab Intelligent Portfolios review, we will discuss the management fees and deposit limits. You'll be glad to know that Schwab Intelligent Portfolios stands out from other Robo Advisors because they do not charge any fees, whether in the form of management fees, advisory fees, or transaction costs and charges.
Sounds too good to be true, right? But here's the million-dollar question: how does the service earn a profit? It is a bit unclear, but we assume that they invest or lend a substantial allocation of funds to cash, which is typically found within the suggested portfolios of the service.
In terms of deposit limits, Schwab Intelligent Portfolios will require you to provide a minimum deposit of $5,000. That's not the lowest minimum, to be quite honest. Still, we found it above average considering the full range of deposit limits imposed by other Robo Advisors in the financial landscape and not terribly high.
Schwab Intelligent Portfolios Performance & Returns
Every quarter Schwab shares a review of their Intelligent Portfolio performance and a look at general market performance. You can find their historical performance reports here.
Schwab looks at how various asset classes performed over the past three months, year-to-date, and the past three years. In their review, Schwab shares how their portfolios compare to the market in general and major stock indexes like the S&P 500.
Schwab will invest in different asset classes based on your financial goals and risk tolerance and suggest revisiting your investor profile questionnaire to stay on track. Schwab also recommends looking at your Goal Tracker because it can provide you with a more accurate view of how your investments are doing.
Screenshots
Flexibility
Flexibility is a key trait, even though this isn't necessarily something you might look for in a Robo Advisor. The good news is that while Schwab Intelligent Portfolios is a fully automated service, it does offer an added dose of flexibility.
You only need to sign up and answer 12 questions regarding your potential investment. You are then presented with a proposal on how your portfolio should be allocated. But the service offers you the chance to adjust the specific allocations before accepting the proposal. From that point on, portfolio management is strictly automated. Should any problems arise, the company offers professional human advice, which you can call 24/7.
Ease of Use
We will let you in on a little secret: one of the main reasons why a vast majority of Robo Advisors are fully automated is that modern investors want an easy-to-use, hands-off type of service. Our Schwab Intelligent Portfolios review found that the service makes it easy for investors to get started, even if they have zero investing experience.
Sign-up is a breeze, and the questionnaire is simple yet comprehensive. After creating a fully customized portfolio, the Robo Advisor will take care of the rest, including daily rebalancing and other management services. It does all of this without requiring any manual input.
Account and Investment Types and Services
We uncovered some fascinating insights regarding accounts and investment types. The service offers both traditional taxable accounts and IRAs for retired individuals. It excels in the vast selection of investments to choose from, which helps build your portfolio.
The portfolios comprise of up to 20 different ETFs taken from a choice of 54, representing 20 distinct asset classes and 11 different fund families – a variety that far exceeds what you might find anywhere else.
The features offered by the service also rank well in comparison to the other automated investing services around. It provides asset allocation and daily automatic rebalancing to all accounts. Tax-loss harvesting is also available (but only to accounts worth $50,000 or more), and personal advice and support from professionals are offered to all investors on a 24/7 basis.
Suitability for Different Investment Budgets
Investors of all shapes and sizes will enjoy the absence of management fees. But you may be worried about the high cash allocation in your portfolio, which can ultimately hold back profit. Beyond that, the other thing to consider is that tax-loss harvesting is only provided for accounts worth more than $50,000. So if you have less than $50,000 to invest and you want that added feature, you might consider investing your money elsewhere.
Overall Summary
How effective are Robo Advisors? Can you entrust your money to an automated service with no human guidance? These were the questions in everyone's mind when automated investing was in its infancy. But all doubts were wiped out when the Charles Schwab Corporation launched Schwab Intelligent Portfolios. So how does a Robo Advisor from a highly respected investment firm stack up against the competition? Pretty good, indeed.
The fact that Schwab Intelligent Portfolios provides their service with zero fees is a huge plus and could prove to be really beneficial in actual practice. However, you should keep in mind that the company would not offer a service that doesn't generate profit in any manner, so you should keep a close eye on ETFs' expense fees and the percentage of any portfolio allocated to cash.
Another huge positive for Schwab Intelligent Portfolios (in direct comparison to other automated investing services) is the fact that you can contact a human professional advisor 24 hours a day, seven days a week. This service is available to all customers.
That provision for human support, combined with excellent asset allocation, daily rebalancing, and tax loss harvesting (for accounts over $50,000), makes Schwab Intelligent Portfolios a great option for many potential investors.