We may earn a small commission if you sign up for a service or product from this page. This does not affect our rankings and it does not cost you anything. Learn more about how we make money and our review process on our advertising disclosure page.
CI Direct Investing
Pros
$10,000 Managed for free (with our link)
Dedicated financial planner
Cons
Higher fees than competitors
In 2019, CI Financial acquired the online robo advisor WealthBar and rebranded in 2020 as CI Direct Investing. They continue to provide financial planning and automated investment management tools, and the service combines automated investing with human financial advisers. As of August 2022, CI Financial has C$345.9 billion in assets under management (AUM).
The investment portfolio options make CI Direct Investing one of the best robo-advisors in Canada. Unlike most hybrid advisors, CI Direct Investing offers professionally-managed ETF portfolios and private investment portfolios.
In this review of CI Direct Investing, we'll look at everything they have to offer and decide who the service is best suited for.
Annual Fee
0.35% – 0.60%
Minimum Investment Amount
$1,000
Total AUM (Assets Under Management)
C$345.9 billion (Aug 2022)
Promotion
$10,000 managed free (with our link)
Headquarters
490 – 1122 Mainland Street
Vancouver, B.C., V6B 5L1, Canada
Desktop App
Yes
Mobile App
Yes
Socially-Responsible Investing
Yes
Cash Management Account
Yes, 4.00% APY
Customer Support
In-App Support Chat
Email
[email protected]
Phone
1-888-373-7674
Fees and Deposit Limits
CI Direct Investing uses a sliding-scale fee structure, which is slightly different from most other robo-advisors. The marginal rate on your fees decreases when your portfolio reaches the account size listed below.
The fee structure is tiered as follows:
First $150,000: 0.60% annually (first $10,000 managed free)
Next $350,000: 0.40% annually
Above $500,000: 0.35% annually
If you've invested $300,000, the first $150,000 invested is charged at 0.60% APY, and the next $150,000 is charged at 0.40% APY, making the total fee 0.50% APY.
Making Sense of CI Direct Investing's Fees
Here's a chart we've made to help clarify how this fee structure works with investments in $50,000 increments:
As you can see, the first $150,000 is charged at 0.60% annually, regardless of how much you invest. As you invest more, the fees decrease, but the incentive to invest more isn't as great as we'd like to see. The higher fees cover the services' costs, including rebalancing fees, trading charges, portfolio management, and personal financial planning.
If you compare CI Direct Investing fees to another Canadian robo-advisor like Wealthsimple, you'll pay more, but not by much.
Let's say your investment account is $500,000. With CI Direct Investing, your annual fee is around $192 per month using a calculated 0.46% annual rate. This amounts to an annual fee of roughly $2,300 (or $150k x 0.60% plus $350k x 0.40%).
For comparison, Justwealth and Wealthsimple's annual fees are around $2,000 based on a 0.40% yearly rate, and NestWealth would charge only $960 per year with their flat fee structure.
What about a more modest investment portfolio of $25,000? With CI Direct Investing's 0.60% management fee, you'd pay $150 per year. Wealthsimple and Justwealth would cost you $125 per year, while NestWealth would be $240 per year.
The different fee structures will determine which one is best for your budget. But remember, it's not only about the fees you're paying; different services offer different features. Just because one is more expensive than another doesn't mean it's a better overall value.
Special Promotion: We partnered with CI Direct Investing to offer you a special promotion. If you use our link to sign up and fund your account, you'll get your first $10,000 managed free for a year!
Minimum Deposit
CI Direct Investing requires a minimum deposit of $1,000. You can open an account with less than $1,000, but your money will not be invested in your selected portfolio until the minimum is reached.
If you don't have $1,000 available to invest, we suggest opening a high-interest savings account or looking at the other Canadian robo-advisors we've reviewed.
Getting Started
Opening a CI Direct investing account will only take 10 to 15 minutes. You won't need to worry about filling out lengthy paperwork or busy phone lines. CI Direct Investing will help you choose the right investments specifically designed to meet your goals.
CI Direct Investing offers five different ETF portfolios and three private investment portfolios. These come with varying levels of risk and are designed to match your unique investment goals. They also offer Socially-Responsible Investing (SRI) portfolios as add-ons.
During the signup process, you'll complete a survey and can chat with a financial adviser to help you choose the right portfolio. After selecting the type of account you want to open, you'll need to fund your account, and then you're good to go!
Getting started with the CI Direct Investing robo advisor is quick and easy, and you're not left alone to figure everything out for yourself.
If you want to move your investments from another service to CI Direct, they will refund your transfer fees of up to $150 for accounts worth more than $25,000.
Screenshots
Historical Performance & Returns
CI Direct investing provides excellent insights into the historical performance of its nine unique portfolios. The performance details show the hypothetical performance of a $100,000 investment since the portfolio's inception.
Investors can view the increases over the past months and years and a breakdown of the asset and fund allocations.
Although past performance doesn't guarantee the future, viewing the returns from 2014 can give investors an idea of the average yearly returns.
Disclaimer: The hypothetical performance provided is for informational purposes only and should not be considered investment advice. Portfolio performance is not guaranteed. The value of your investment can go down, up, and change frequently. Past performance is not indicative of future returns. There may be significant differences between the investment portfolios that are not discussed here, including different investment objectives and risk factors. In any investment decision, you should always consider your investment objectives, needs, circumstances, restrictions, tolerance for risk, financial goals, and investment time frame.
For example, the Growth ETF Portfolio has increased just under 50% from $100,000 to $149,731 since its inception in 2014: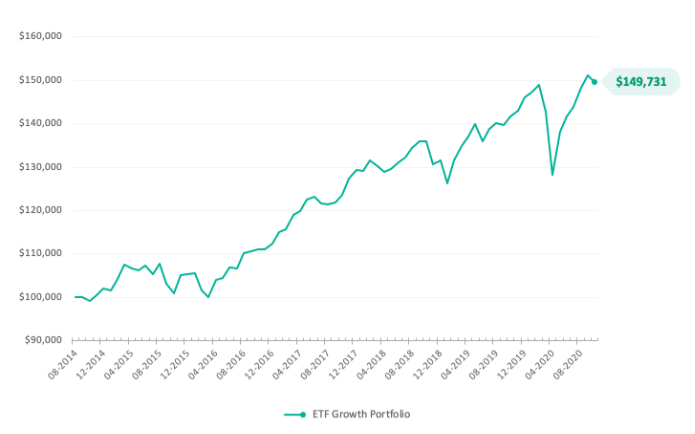 This portfolio is broken down into U.S. equities (30%), corporate bonds (27), international equities (15%), Canadian equities (10.5%), high-yield bonds (10%), and real estate (7.5).
Their Balanced ETF Portfolio is up 43% over the same period:
You can find the breakdown of each portfolio performance here.
Features and Account Types
CI Direct Investing offers many types of investment accounts, including:
Corporate/Business Accounts 
Individual and Joint Accounts
LIRA (Locked-In Retirement Account)
LIF (Locked-In Fund)
RDSP (Registered Disability Savings Plan)
RESP (Registered Education Savings Plan)
RRSP (Registered Retirement Savings Plan)
RRIF (Registered Retirement Income Fund)
TFSA (Tax-Free Savings Account)
Each low-cost ETF portfolio contains around eight to ten individual ETFs from Horizon, Vanguard, iShares, Purpose, and BMO. The service also includes estate planning, investment assessment, corporate tax planning, tax optimization, and Socially-Responsible Investing (SRI) options. They do not, however, currently offer tax-loss harvesting. In their words, "Given the level of volatility and uncertainty, we believe tax loss harvesting introduces more risks than benefits at this time."
High-Interest Savings Account
CI Direct Investing announced a new high-interest savings account in September 2020. This savings account is designed to make saving money as easy as possible, and there are no fees, minimum balances, or withdrawal limits.
You can easily set up automatic deposits to this account and grow your emergency fund or save money for a big purchase. Your savings account will earn 4.00% APY, and you don't need to worry about any of the limitations that most savings accounts have.
CI Direct Investing Mobile App
Managing your investments and savings on the go should be easy. It's now the standard for robo-advisors to have a user-friendly app that lets investors check on their portfolios at any time and any place.
The CI Direct Investing app is on-par with other top robo-advisors. You get a good overview of your accounts and chat with financial advisers on your app.
Private Investment Portfolios
Private portfolios are offered in three risk levels: safe, balanced, and aggressive. The aggressive portfolio aims for maximum growth but comes with higher volatility and uncertainty; the balanced portfolio has moderate growth and offers more stability. And finally, the safety private portfolio offers marginally lower expected returns with lower volatility.
The private investment portfolios stand out because CI Direct Investing gives you access to private investment portfolios at a low minimum deposit. These portfolios include more unconventional assets and are not ordinarily available to smaller investors, and CI Direct is the only robo-advisor to offer this type of investment. These include private equity, real estate, mortgages, alternative strategies, and preferred shares. Most portfolios are comprised of ETFs, publicly traded stocks, and bonds.
If you want to invest in socially responsible funds, you can add a Cleantech fund to any portfolio. All these benefits make CI Direct Investing a great choice.
Suitability for Different Budgets
Our CI Direct Investing review finds the $1,000 minimum deposit feasible for small investors. And when compared to robo-advisors that offer a similar service, the management fees are reasonable.
CI Direct Investing is best suited for those who value professional financial advice and access to private investment portfolios. But like all robo-advisors, CI Direct will save you money compared to a regular mutual fund.
Summary
We find CI Direct Investing one of the best Canadian robo-advisors in 2023.
Considering that this hybrid service includes human financial advice and offers private investment portfolios, dedicated financial advisers, and financial planning included in your fees. The fee structure and initial investment of $1,000 make CI Direct Investing an excellent option for investors with higher net worth.
The additional financial planning from CI Direct's certified financial planners will help ensure that your money is invested in the right portfolio and on track to meet your goals.
And remember, if you use our link to sign up, CI Direct Investing will manage your first $10,000 for free for the first year.