Hedgeable Robo Advisor Review
Choosing a Robo Advisor is like choosing a new car: you need to make sure that the vehicle is right for your budget and lifestyle. The same is true when choosing a Robo Advisor. Not all of them are the same, and the best example of this is Hedgeable.
Hedgeable is unique because their investment philosophy is based on downside protection and risk management. Other Robo Advisors use the Modern Portfolio Theory, but Hedegable is different because the Dynamic Advisor technology can move client portfolios to cash during high risk periods. The company calls this 'sophisticated investing', and it seems rather enticing indeed.
The platform will allow you to invest as little or as much as you like.
In this Hedgeable Robo Advisor review, we will dive into the world of one of the most unconventional online investment platforms in the market today. It also worth noting Hedgeable is one of the first to offer SRI or socially responsible investing options with a low minimum deposit of $1.
Hedgeable Fees
Unlike other Robo Advisors, Hedgeable is an active asset management firm with no minimum deposit required. You can even test the service without depositing any funds. All you have to do is to sign up and give Hedgeable a try. This is ideal for high-value investors, but even beginners can get their ears wet and get familiar with the platform.
When it comes to fees, Hedgeable will charge what the company calls a 'wrapped fee', which is basically an all-in-one fee structure that includes the management fee, product fees, custodial fees, trading fees and administration fees. We're not saying that Hedgeable offers the lowest fees compared to other Robo Advisors, but the fee structure are as follows:
| | |
| --- | --- |
| $0 to $49k | 0.75% |
| $50k to $99k | 0.70% |
| $100k to $149k | 0.65% |
| $150k to $199k | 0.60% |
| $200k to $249k | 0.55% |
| $250k to $499k | 0.50% |
| $500k to $749k | 0.45% |
| $750k to $999k | 0.40% |
| $1M+ | 0.30% |
With this fee structure, you basically pay lower fees if you maintain a larger account. This is good for big investors, but small investors might get put off by the high fees, especially since Swell Investing and Wealthsimple offer lower fees overall.
Flexibility
We're proud to say that Hedgeable is perhaps the best Robo Advisor for 2019 when it comes to flexibility. Besides offering a diverse range of investment portfolios – including private equities, Bitcoin, commodities and real estate with no additional charges – the service challenges the norm by using an active management approach to investing.
The service is flexible enough to react to certain market circumstances, and it can even sell equity portfolios to cash to protect your initial capital.
However, if you prefer a more do-it-yourself approach to online investing then you better look elsewhere since the service prides itself as a fully automated Robo Advisor.
Hedgeable in 60 Seconds
Check out this video for an overview of how Hedgeable works:
Ease of Use
We have to admit that Hedgeable is easy to use for seasoned investors, but beginners might find the service daunting upon first glance.
However, since the service comes with a free 'test drive' so to speak, you can test the platform without depositing any funds. This gives you time to study and familiarize yourself with the platform, and only commit funds if you think that Hedegable is the best Robo Advisor for you.
Signing up is pretty straightforward. The service will create a customized portfolio based on your account type, income requirement, risk tolerance and net worth. And unlike other Robo Advisors, the service may allocate stocks alone, or a combination of both stocks and ETF's depending on your preferred risk level.
Account and Investment Types and Services
Similar to Zacks Advantage, Hedgeable offers a diverse selection of supported account types including taxable accounts, 401k plans, IRA accounts, Roth IRA accounts, SEP IRA accounts and trust accounts.
As we previously mentioned, Hedgeable also offers other investment options such as:
Private Equity – gives you the opportunity to invest in small start-ups when the returns are deemed the biggest, although you'll have to be an accredited investor to participate in private equity investments.
Bitcoin – integrating with Coinbase (the leading Bitcoin platform in the world) gives you the chance to allocate parts of your portfolio to cyber currency.
Real estate and commodities – part of your portfolio can be allocated to real estate and commodities, including precious metals, energy and other agricultural products.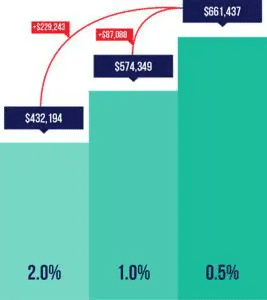 Small investors can also enjoy Downside Risk Protection, a service which is unique to Hedgeable alone. The service will basically react to current market trends to minimize large losses in an attempt to preserve capital. What this means is that the platform will gradually sell positions when the market is losing money, so you can keep more money (or 100% cash) in your portfolio.
Hedgeable also offers the most diverse range of social investing themes. Green investors can choose to invest in companies that promote low carbon footprint, LGBTQ equality, water conservation, female leadership, or alternative energy. If you happen to be a values based investor, Hedgeable is worthy of your attention.
Suitability for Different Investment Budgets
We've been saying throughout this Hedgeable review that this service is perfect for investors with a high net worth. But since the platform will allow you to invest as little or as much as you like (since there is no minimum deposit to start using the service), we can safely say that the Hedgeable Robo Advisor is suitable for both big and small budgets, provided that you don't mind paying higher management fees if your account is below $50k.
Overall Summary
Think hedge funds and SRI or impact investing are for big game investors only? Not anymore. Hedgeable offers a diverse selection of accounts and investment types with $0 minimum deposit, and it also provides downside risk protection to minimize large losses. In our book, this makes Hedgeable one of the most promising Robo Advisors for 2019. The service is a bit young, but there is a reason why this platform won the UK GREAT TECH Awards for 2015.